GRANT IN AID FROM GOVERNMENT OF NCT OF DELHI
The Library of the Foundation started at its Education Point has been granted a status of a Public Library by the Government of NCT of Delhi and chosen for its Grant in Aids Program of Delhi Government.
The Foundation has been continuously getting the Grants in Aid from Art & Culture Department, Government of NCT of Delhi from the year 2005-06 for the promotion of Alhikmah's Library, located at 176, Street No – 8, Zakir Nagar, Jamia Nagar, New Delhi.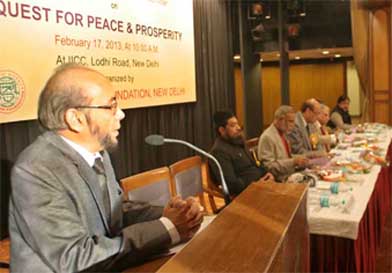 MEMORANDUM OF UNDERSTANDING (MoU)
The Alhikmah Foundation has also taken up certain research work of National Council of Applied Economic Research (NCAER), Government of India, and in this regard a 'Memorandum of Understanding (MoU) was signed between Alhikmah Foundation and NCAER, New Delhi on March 2007. Since then the Foundation is carrying out quarterly Survey work viz "Business Expectations Survey" of NCAER through its volunteers to collect the data related to contribution of manufacturing and Service Sectors towards the economic development of the country. In each survey around 160 trade and industries are targeted for collecting data and information in this regard.

The Foundation has also been taking up various survey works from different socioeconomic organizations of the Central and Delhi state governments for collecting data related to general health facilities and educational development of the NCT of Delhi.