HEALTHY VALUES, HEALTHY WORLD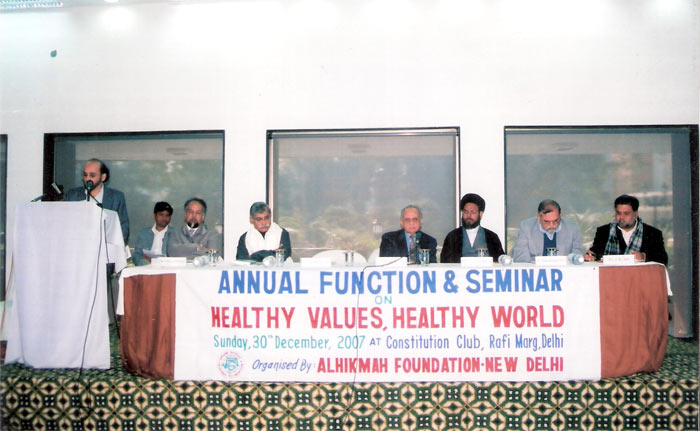 Seminar on Healthy Values, Healthy World
Held on 30th December 2007, at
Constitution Club, Rafi Marg, New Delhi
It is very strange that we have different institutions for different fields of expertise but non that guides our children to respect the social values which form the basis for a world full of peace and security.
Despite excellent economic growth and intelligent laws to control public behaviour, the incidence of unlawful public activities keeps rising and crime graph always shows upward trend. This shows that we have drifted from our social moorings, the value system which kept us bonded as human beings. All these emphasize the relevance of healthy values in relation to peaceful world.

It was under this background that Alhikmah Foundation decided to organize a series of seminars on different facets of peace for society and world at large. This is the 4th in the series of seminars on peace. The present topic "Healthy Values and Healthy World" also emphasizes on establishing the world peace by following healthy values.

The seminar was organized on the occasion of Annual Day celebrations of Alhikmah Foundation held on 30-12-2007 at Constitution Club, New Delhi. While Shri Subodh Kant Sahai, Hon'ble Minister of State for Food Processing was the Chief Guest, the programme was presided over by Prof. (Dr.) Tahir Mehmood, Member of Law Commission of India. The seminar was addressed by a number of prominent scholars who expressed their opinions on various aspects of the issues. Speaking as the Chief Guest Shri Subodh Kant Sahai said that Healthy Values should be the basis for the development of the world. We should respect each other and give proper recognition to each other so that mutual cooperation is possible. He also said that we have inherited rich traditions from our forefathers which should be applied to make the world peaceful and healthy. We should not hanker after short run benefit.

He also said that Mahatma Gandhi is the ultimate example of peace, values, brotherhood and communal harmony in the world. He further expressed that right of education and health should be the fundamental rights of every Indian and in this connection he emphasized the role of NGOs for establishing peace in the world. He appreciated the activities and efforts being made by the Alhikmah Foundation for selecting this topic for discussion on this occasion which will ultimately inspire the general masses to think over the problems and find out their solutions.

In his keynote address Maulana Aqeel Algharvi expressed that our values and cultural even today differentiate India from other countries and make it important. We should try to infuse those social values in all aspect of our lives by protecting the rights of others by everybody with fairness and justice. This will help in establishing peace in the society and world at large.

Dr. Tahir Mehmood in his presidential address applauded the efforts made by Alhikmah Foundation in making the society aware of need for peace and harmony in the world and told that it is through following our traditional values and culture that the concept of world peace can be made a reality. Different speakers spoke on the various aspect of the issue such as values for peaceful world, responsibility of media for society, moral values of economic system, education system based on social values, religion and communal harmony etc.

As usual a souvenir was also published and released on this occasion containing a number of articles by different scholars on the various aspect of the issue. The Foundation also distributed Sewing Machines to the poor and needy women and Wheel Chairs to physically handicapped. Whole programme was covered by Electronic and Print Media.


---
| | SEMINARS | | DATE |
| --- | --- | --- | --- |
| | ROAD MAP FOR PEACEFUL NATION BUILDING | | 13rd March 2016 |
| | MATERIALISM: BOON OR BANE | | 2nd March 2014 |
| | QUEST FOR PEACE AND PROSPERITY | | 17th February 2013 |
| | SERVING HUMANITY IS HIGHEST VIRTUE | | 18th December, 2011 |
| | SEERAT-E-PAAK (SAW) AUR PAYAM-E-INSANIYAT | | 27th March, 2011 |
| | INTERFAITH PARTNERSHIP FOR DEVELOPMENT | | 28th March, 2010 |
| | MAINTAINING PEACE: PRESENT CHALLENGES | | 29th March, 2009 |
| | HEALTHY VALUES, HEALTHY WORLD | | 30th December, 2007 |
| | ENSURING PEACE : CITIZENS' RESPONSIBILITIES | | 11th June, 2006 |
| | NATIONAL DEVELOPMENT & OUR RESPONSIBILITIES | | 5th June, 2005 |
| | YOUTH AND SOCIETY-MUTUAL RESPONSIBILITIES | | 18th July, 2004 |
| | KNOWLEDGE AS ABSOLUTE VALUE | | 18th May, 2003 |
| | RELIGION & COEXISTENCE | | 12th May, 2002 |
| | HEALTHY MINDS FOR HEALTHY SOCIETIES | | 6th May, 2001 |
| | CHARITY AND SOCIAL WELL-BEING | | 7th May, 2000 |
| | PARENT'S DUTIES TOWARDS THEIR CHILDREN | | 21st November, 1999 |
| | ROLE OF SACRIFICE AND MUTUAL COOPERATION | | 18th April, 1999 |
| | ECONOMIC HEALTH | | 18th October, 1998 |
| | PUBLIC HEALTH & UNANI MEDICINE | | 26th April, 1998 |
| | PHILOSOPHY OF SACRIFICE AND ITS SIGNIFICANCE IN HUMAN SOCIETY | | 3rd May, 1997 |
| | QURAN, HUM AND ASR-E-HAZIR | | 22nd June, 1996 |
| | HUMAN RIGHTS & ISLAMIC TEACHINGS | | 10th December, 1995 |