QUEST FOR PEACE AND PROSPERITY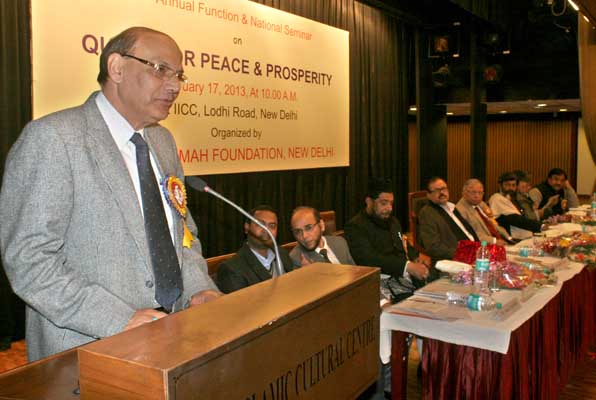 QUEST FOR PEACE AND PROSPERITY

22nd Annual Function & National Seminar on
"Quest for Peace and Prosperity"
17th February 2013
Held at India Islamic Cultural Centre
Lodhi Road, New Delhi
Alhikmah Foundation celebrated its 22nd Annual Function on 17th February 2013 at India Islamic Cultural Centre, Lodhi Road, New Delhi. To mark the occasion, a national seminar on "Quest for Peace and Prosperity' was also organized on this occasion.
While welcoming the guests Dr. Ziauddin Ahmad, Chairman, Alhikmah Foundation said that we are mainly working in the field of Health, Education, Interfaith, Peace, Moral Values and General Welfare since last 22 years. He said that peace is an important ingredient without which development in any sphere of life is not possible at all. He further called the masses to help their neighbors, relatives and all other needy and downtrodden in their need of hour. Dr. Ziauddin Ahmad further said that we should do all these things as it is our duty towards our less fortunate fellow beings.

Speaking on the occasion Chief Guest Dr. Narendra Jadhav, Member, Planning Commission and National Advisory Council, Government of India, appreciated the efforts of Alhikmah Foundation in the field of education, health and general welfare. He informed that in the 12th Five Year Plan talks about sustainable and inclusive growth there is a provision for demographic dividend.
Former Advocate General of Uttar Pradesh and former Chairman UP Minorities Commission, Mr. SMA Kazmi delivered the keynote address. In his address he emphasized the need for the implication of both peace and prosperity. Although, the issue of peace concerns both the society and individual, however, the most essential element remains the soul. It is pre-conditioned with conducive environment as well. If a person is prosperous does not imply that he is at peace because there could be violence in his area or a natural might have struck. The perfect role model of peace for the entire humanity is none other than Prophet Mohammad (P.B.U.H.). He highlighted the need for the value education, truth and justice for maintaining peace in the society. Mr. Yousuf Habeeb, UP President of Muslim Majlis, said that government's schemes and programmes are not reaching the intended beneficiaries properly. One after the other riots have forced the Muslims to resort to defensive politics.

Maulana Sharafuddin A. Nadvi, Faculty Tajul Masajid, Bhopal, speaking against the backdrop of recent Delhi gang-rape maintained that only removing the curtains of vehicles would not to the trick. In his opinion Prophet Mohammad (P.B.U.H.) was the best practical example of peace. Prof. A.D.N Bajpai, Vice Chancellor, Central University of Himachal Pradesh, Shimla believed that peace is an abstract value whereas prosperity is materialistic. Religions are meant to promote humanity and spirituality but we have reduced ourselves to the rituals only. The key to a peaceful life is in imbibing the virtues of souls into our physical being. The desire to become billionaire overnight turns one into a corrupt and crook person. Therefore it is necessary to penetrate to the root-cause of the problems rather than treating illness by just observing the symptoms. Talking about the soul he mentioned that the nature of the soul prevails in every single human body is identical. Quoting from the Holy and Hindu Holy Scriptures Bajpai clarified that spirituality pervades all barriers that lead to universal brotherhood. In his opinion the man-made rules are of no help to protect women and environment. If we were to experience internal spirit we have to resort to spirituality. He lamented that today all our welfare efforts are cosmetic and lack sincerity. Prof. Bajpai clarified that unfortunately, we do not have any developmental model that can integrate growth, inclusiveness and sustainability. Yes, no doubt peace and prosperity are complimentary to each other but its base has to be spirituality. The soul within us has to guide us for the prosperity. These are the fundamental teachings of every single religion of the world.

Renowned Islamic scholar Maulana Farooq Khan squarely blamed the human beings for creating disturbance on the planet earth. Injustice, rape, corruption, unrest etc. are the symptoms of a serious illness. The root-cause of all these illnesses is that we have downgraded ourselves to abysmally low positions, though according to the Holy Quran we are supreme. Quoting Hadith he claimed man is a reflection of God. The whole of universe operated on the principle of cooperation. The same law applies to human relations as well. The basic ingredients of mutual cooperation are love, sympathy and respect. Materialism is a great illness that breeds selfishness. While on the other hand spirituality makes a man great. The best among the human beings is the one who cares for and serves others.

Mr. Tariq Anwar, Hon'ble Minister of State for Agriculture and Food Processing Industries said that Peace and Prosperity is a comprehensive topic that encompasses a wide variety of thoughts and actions. They are inter-linked together. There is no peace without prosperity and the vice versa also holds true. Our social structure throws up lot of opportunities for welfare activities. It is the duty of every single inhabitant of this country to care and help fellow countrymen especially the downtrodden and the destitute.

Mr. Safdar Husain Khan, Chairman, Minority Commission, Government of NCT of Delhi presided over the function.
Alhikmah Foundation on this occasion distributed scholarships, educational kits and sewing machines.
The Organizing Secretary of the programme was Mr. Mushahid Ali and the vote of thanks was proposed by Mr. Syed Shuaib Ahmad, Joint Secretary, Alhikmah Foundation.

---
| | SEMINARS | | DATE |
| --- | --- | --- | --- |
| | ROAD MAP FOR PEACEFUL NATION BUILDING | | 13rd March 2016 |
| | MATERIALISM: BOON OR BANE | | 2nd March 2014 |
| | QUEST FOR PEACE AND PROSPERITY | | 17th February 2013 |
| | SERVING HUMANITY IS HIGHEST VIRTUE | | 18th December, 2011 |
| | SEERAT-E-PAAK (SAW) AUR PAYAM-E-INSANIYAT | | 27th March, 2011 |
| | INTERFAITH PARTNERSHIP FOR DEVELOPMENT | | 28th March, 2010 |
| | MAINTAINING PEACE: PRESENT CHALLENGES | | 29th March, 2009 |
| | HEALTHY VALUES, HEALTHY WORLD | | 30th December, 2007 |
| | ENSURING PEACE : CITIZENS' RESPONSIBILITIES | | 11th June, 2006 |
| | NATIONAL DEVELOPMENT & OUR RESPONSIBILITIES | | 5th June, 2005 |
| | YOUTH AND SOCIETY-MUTUAL RESPONSIBILITIES | | 18th July, 2004 |
| | KNOWLEDGE AS ABSOLUTE VALUE | | 18th May, 2003 |
| | RELIGION & COEXISTENCE | | 12th May, 2002 |
| | HEALTHY MINDS FOR HEALTHY SOCIETIES | | 6th May, 2001 |
| | CHARITY AND SOCIAL WELL-BEING | | 7th May, 2000 |
| | PARENT'S DUTIES TOWARDS THEIR CHILDREN | | 21st November, 1999 |
| | ROLE OF SACRIFICE AND MUTUAL COOPERATION | | 18th April, 1999 |
| | ECONOMIC HEALTH | | 18th October, 1998 |
| | PUBLIC HEALTH & UNANI MEDICINE | | 26th April, 1998 |
| | PHILOSOPHY OF SACRIFICE AND ITS SIGNIFICANCE IN HUMAN SOCIETY | | 3rd May, 1997 |
| | QURAN, HUM AND ASR-E-HAZIR | | 22nd June, 1996 |
| | HUMAN RIGHTS & ISLAMIC TEACHINGS | | 10th December, 1995 |