SEERAT-E-PAAK (SAW) AUR PAYAM-E-INSANIYAT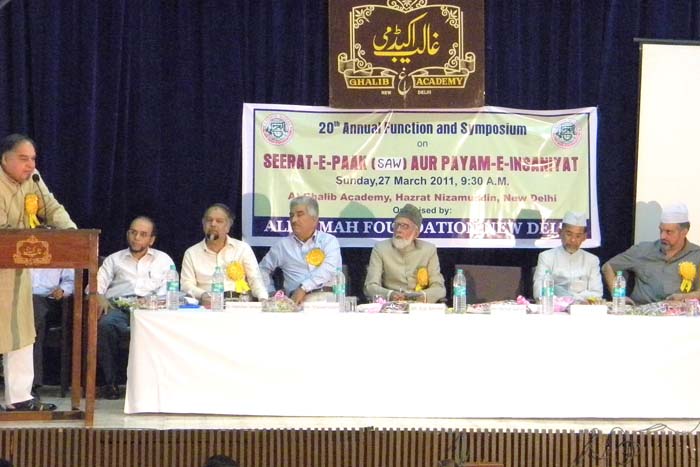 20th Annual Function & Symposium on
Seerat-e-Paak(saw) aur Payam-e-Insaniyat
Held on 27 March 2011
Ghalib Academy, Hazrat Nizamuddin, New Delhi
Alhikmah Foundation celebrated its 20th Annual Function on 27th March 2011 at Ghalib Academy, New Delhi. On this occasion the Foundation organized a one day Symposium on "Seerat-e-Paak (saw) aur Payam-e-Insaniyat". The programme was started with the recitation from Holy Quran by Qari Muhibbullah Nadvi and the Naat Shareef was presented by Hafiz Sharaf Sb. The Chief Guest of the symposium was Mr. Mohammed Adeeb, Hon'ble Member of Parliament (Rajya Sabha) and Mr. Sharief-ud-Din "Shariq", Hon'ble Member of Parliament (Lok Sabha) was the Guest of Honour. The Keynote Address was delivered by Dr. Abdullah Tarique, renowned Islamic Scholar from Rampur (U.P.). Prof. K. M. Y. Ameen, AMU, Aligarh and Dr. S. Farooq also addressed the audience. Maulana Ejaz Aslam, Editor, Radiance weekly, New Delhi Presided over the function.

While welcoming the guests and delegates Dr. Ziauddin Ahmad, Honorary Chairman of the Foundation said that the cure of all ills of the society is available in the teachings of Holy Quran and sayings of Prophet Mohammed (saw). Therefore we should study and follow these. He further said that it is our duty to establish a peaceful and healthy society and for establishing the same we need better human being. The education, employment, good moral values and health are the basics pillars of a healthy society. We should also extend a helping hand to the needy. Dr. Ahmad also said that government alone can not fix everything; it is our duty too, to feel the pain of society and perform our duty.

Prof. K. M. Y. Ameen, Aligarh Muslim University, Aligarh while addressing the audience said, that the 19th Century was the worst in the history of humanity because two world wars were fought in this century and lacks of people lost their lives. After the wars the United Nation announced its declaration 'Rights of People'. He further said that there is no respect of relations in America. Due to this about 20% of elders are staying in Old Age Homes in USA. Prof. Ameen stressed that we can achieve success through relivation only. Hence, we should adopt our lifestyle according to the Islam.

While delivering the Keynote Address eminent Islamic Scholar Dr. Abdullah Tarique said, that different happenings in the life of Prophet Mohammed (saw) were not just the incidences but these were also an attempt to save the humanity. Therefore it is our responsibility too, to extend our Daa'wah to all.

Speaking on this occasion Mr. Sharief-ud-Din "Shariq" Hon'ble Member of Parliament, (Lok Sabha) said that we know the right way but we don't follow the same, we preach to others but lack ourself. Hence, firstly we have to introspect ourself and change. He further said that if we are Muslim than how we could be cruel and problem creator to others and how we can be drunk. Speaking on this occasion Dr. S. Farooq, President, TASMIYAH, stressed that we should respect each other and generalize Salam. Dr. Farooq further said that imparting good moral values is the need of hour to our toddlers.

While delivering the Presidential talk Dr. Ejaz Aslam, Editor, Radiance said that almighty Allah has given powers and capabilities to human being and has also taught to follow right path otherwise you will be punished for your sins. Dr. Aslam also said that Islam has always stressed on humanity and promoted good moral values.

Speaking at the end of the programme Dr. Ziauddin Ahmad said that the main aim of organizing this programme was to tell the masses that the humanity my only be promoted by following religion. He also urged the people to take a pledge that we will perform our duty well and will help the government to establish a peaceful and a prosperous country.

On this occasion a Souvenir was released by the Chief Guest, and the Website of the Foundation was launched by Guest of Honour Mr. Sharief-ud-Din "Shariq". On this occasion Foundation also awarded few scholarships to the students. Mr. Sharief-ud-Din Saheb also released a book "Rip not the sore" authored by Mr. Shariq Naseeb Khan.

Mr. Syed Shuaib Ahmad, Organizing Secretary of the programme proposed the vote of thanks to the Guests and audience. The programme was conducted by Dr. Shakil Ahmad Habibi.

---
| | SEMINARS | | DATE |
| --- | --- | --- | --- |
| | ROAD MAP FOR PEACEFUL NATION BUILDING | | 13rd March 2016 |
| | MATERIALISM: BOON OR BANE | | 2nd March 2014 |
| | QUEST FOR PEACE AND PROSPERITY | | 17th February 2013 |
| | SERVING HUMANITY IS HIGHEST VIRTUE | | 18th December, 2011 |
| | SEERAT-E-PAAK (SAW) AUR PAYAM-E-INSANIYAT | | 27th March, 2011 |
| | INTERFAITH PARTNERSHIP FOR DEVELOPMENT | | 28th March, 2010 |
| | MAINTAINING PEACE: PRESENT CHALLENGES | | 29th March, 2009 |
| | HEALTHY VALUES, HEALTHY WORLD | | 30th December, 2007 |
| | ENSURING PEACE : CITIZENS' RESPONSIBILITIES | | 11th June, 2006 |
| | NATIONAL DEVELOPMENT & OUR RESPONSIBILITIES | | 5th June, 2005 |
| | YOUTH AND SOCIETY-MUTUAL RESPONSIBILITIES | | 18th July, 2004 |
| | KNOWLEDGE AS ABSOLUTE VALUE | | 18th May, 2003 |
| | RELIGION & COEXISTENCE | | 12th May, 2002 |
| | HEALTHY MINDS FOR HEALTHY SOCIETIES | | 6th May, 2001 |
| | CHARITY AND SOCIAL WELL-BEING | | 7th May, 2000 |
| | PARENT'S DUTIES TOWARDS THEIR CHILDREN | | 21st November, 1999 |
| | ROLE OF SACRIFICE AND MUTUAL COOPERATION | | 18th April, 1999 |
| | ECONOMIC HEALTH | | 18th October, 1998 |
| | PUBLIC HEALTH & UNANI MEDICINE | | 26th April, 1998 |
| | PHILOSOPHY OF SACRIFICE AND ITS SIGNIFICANCE IN HUMAN SOCIETY | | 3rd May, 1997 |
| | QURAN, HUM AND ASR-E-HAZIR | | 22nd June, 1996 |
| | HUMAN RIGHTS & ISLAMIC TEACHINGS | | 10th December, 1995 |