MATERIALISM : BOON OR BANE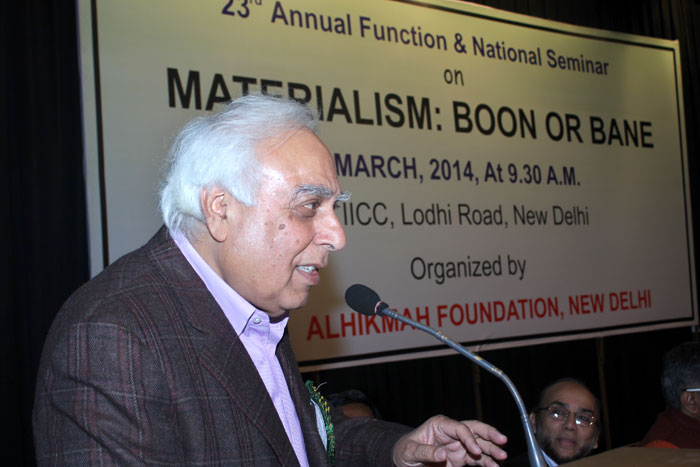 23rd Annual Function & National Seminar on
"Materialism: Boon or Bane"
2nd March 2014 Held at India Islamic Cultural Centre
Lodhi Road, New Delhi
Alhikmah Foundation organised its 23rd annual function and national seminar on 2 March 2014 at India Islamic Cultural Centre, Lodhi Road, New Delhi. To mark the occasion, a national seminar on "Materialism: Boon or Bane" was also organised.
Chairman of Alhikmah Foundation Dr. Ziauddin Nadwi welcomed the guests. He shed light on the rationale behind starting Alhikmah Foundation. We conducted a survey to diagnose the disease of disunity in our country. The survey pointed out five key detriments including illiteracy, disease, unemployment, corruption and immorality and selfishness. The last one is the most serious issue that distances us from every-body else, unless and until every single soul that inhabits this beautiful world must realise its duty to acquire education, disease free life, a decent livelihood to meet our needs. Ethics and morality are the keys to individual as well national development. It is the moral duty of parents to ensure high moral character of children. The last pillar is the care for others. Once we have fulfilled our needs we must also look at others and help our brothers in distress. Dr. Nadwi said that Alhikmah Foundation has stopped talking about rights. Rather it has shifted focus on duties. Every one of us must try his level best to fulfil his/her duties towards others. He also introduced the theme of the seminar as well. Alhikmah Foundation continues to keep this very crucial subject that is Peace close to its heart and as the central theme of its intellectual debates and discussions. Alhikmah Foundation is conscious of the collective responsibility of Mankind towards maintaining long lasting peace that eventually leads to national development. A series of seminars on Peace – spread over seven years' period stretching from 2005 to 2012 organised by Alhikmah Foundation brought into focus this most sought after yet shockingly enough the most elusive entity. The deliberations, over the years – by leading intellectuals, public figures, religious leaders, civil servants, bureaucrats, diplomats, academicians and social activists – focused on peace, national development, healthy values and inter-faith partnership.

Union Minister of Law & Justice and Communication & IT, Kapil Sibal, who was the chief guest, said rights and responsibilities are two sides of the same coin. "When I know my responsibility then only I can understand the rights of others and in the absence of responsibility the desire for taking up others' rights will not come accordingly. In general, we talk of our rights and others' responsibility instead of our responsibly and others' rights." Sibal was all praise for Alhikmah Foundation for the theme and the idea behind this initiative which is to make people understand their responsibilities for the sake of society. He also released a books on Peace and Development, book on Hakim Mohammad Tayyib of AMU. This biographical book is compiled by Hakim Fakhre Alam.

Guest of Honour Mr. Ashok Sajjanhar (IFS), former ambassador and Secretary, National Foundation for Communal Harmony (NFCH), Union Ministry of Home Affairs, said Alhikmah Foundation is doing the same what we are doing and in future it would be in the interest of the people if we jointly do something for the welfare of the people. "I look forward to do so in the near future because the subject we have chosen is more or less the same. The souvenir of the Alhikmah Foundation containing abstracts of the articles and messages of eminent personalities was released by him.
Prof. Shakeel Samadani of Aligarh Muslim University and President of Sir Syed Awareness Forum, said every aspect has got negative and positive aspects and in the same manner materialism has also got two aspects and our Prophet (peace and blessings of Allah be to him) has said there should be a reasonable balance as to what our genuine need is and how much we want to acquire. He gave an example to explain his viewpoints that Imam Abu Hanifah, who used to sell cloths, once when came to know that one of the pieces was defective, asked his men to enquire about it and came to know that it was sold. Just because of a defective piece sold in the market, he gave away in charity the entire money that he had got from selling all pieces of cloths. This is the best example of fair means of doing things and how to keep money pure and not hurt anyone in any way just to fulfil one's greed and lust.
"Will corruption ever exist if we follow him and what he did?" Samdani asked explaining an instance of Caliph Ali when a stranger took away his camel when he was asked to look after it to get money which he was entitled to get in a genuine manner. So one must not indulge in unfair means or harm anyone just to fulfil his needs and desires. One must learn from Caliph Umar when he gave away everything he had with him. When he was asked what he had brought, he said everything except the names of Allah and His Prophet. "Is it possible in this materialistic world when people are hell bent to amass wealth by any means?" he wondered. Swami Nikhilanada Saraswati, Regional Head, Chinmaya Mission, Delhi and an internationally known figure in interfaith dialogue said that in his scripture it has been emphasised that matter should be used for spiritual purposes. This will change the world for the benefit of mankind. The boon or bane aspect of materialism relates to utilisation of resources. Materialism is a source for outer comforts whereas spirituality gives us inner satisfaction. He released a book Quran Ka Shanti Sandesh (Hindi) prepared by Alhikmah Foundation.

Maulana Asghar Ejaz of Aligarh Muslim University said that it is clearly said in our religion that human beings have been sent not for materialism but for monotheism. "Materialism will lead to self-centred behaviour whereas tauheed will drive the individual to do welfare for the society and think for others and not to lead a life which is totally materialistic," he said.

---
| | SEMINARS | | DATE |
| --- | --- | --- | --- |
| | ROAD MAP FOR PEACEFUL NATION BUILDING | | 13rd March 2016 |
| | MATERIALISM: BOON OR BANE | | 2nd March 2014 |
| | QUEST FOR PEACE AND PROSPERITY | | 17th February 2013 |
| | SERVING HUMANITY IS HIGHEST VIRTUE | | 18th December, 2011 |
| | SEERAT-E-PAAK (SAW) AUR PAYAM-E-INSANIYAT | | 27th March, 2011 |
| | INTERFAITH PARTNERSHIP FOR DEVELOPMENT | | 28th March, 2010 |
| | MAINTAINING PEACE: PRESENT CHALLENGES | | 29th March, 2009 |
| | HEALTHY VALUES, HEALTHY WORLD | | 30th December, 2007 |
| | ENSURING PEACE : CITIZENS' RESPONSIBILITIES | | 11th June, 2006 |
| | NATIONAL DEVELOPMENT & OUR RESPONSIBILITIES | | 5th June, 2005 |
| | YOUTH AND SOCIETY-MUTUAL RESPONSIBILITIES | | 18th July, 2004 |
| | KNOWLEDGE AS ABSOLUTE VALUE | | 18th May, 2003 |
| | RELIGION & COEXISTENCE | | 12th May, 2002 |
| | HEALTHY MINDS FOR HEALTHY SOCIETIES | | 6th May, 2001 |
| | CHARITY AND SOCIAL WELL-BEING | | 7th May, 2000 |
| | PARENT'S DUTIES TOWARDS THEIR CHILDREN | | 21st November, 1999 |
| | ROLE OF SACRIFICE AND MUTUAL COOPERATION | | 18th April, 1999 |
| | ECONOMIC HEALTH | | 18th October, 1998 |
| | PUBLIC HEALTH & UNANI MEDICINE | | 26th April, 1998 |
| | PHILOSOPHY OF SACRIFICE AND ITS SIGNIFICANCE IN HUMAN SOCIETY | | 3rd May, 1997 |
| | QURAN, HUM AND ASR-E-HAZIR | | 22nd June, 1996 |
| | HUMAN RIGHTS & ISLAMIC TEACHINGS | | 10th December, 1995 |
In his presidential address, Mr. Ishrat Aziz, IFS and former ambassador, said that in Islam it is said that Allah, the Almighty will not ask as to how much wealth you have accumulated but how you acquired it and where you have spent it. Rights and duties go side by side and it was emphasised by all speakers in one way or the other. It has become our habit to claim our rights but we do not recognise out duties. The function was also addressed by Mr. Siraj Quraishi, president IICC and Mr Safdar Hashmi of Minorities Commission, Delhi. Syed Shuaib Ahmad, Joint Secretary of the Foundation proposed vote of thanks.

Alhikmah Foundation also presented a memento and a shawl to R.N. Gupta in recognition of his outstanding social services. Sewing machines were also distributed to needy women. Educational kits and scholarships were distributed to needy students from various parts of Delhi.
Conclusion and Resolutions
In the light of the views expressed by the learned speakers, at this forum and the opinions expressed by the majority writers of our proposed book, regarding the ill effects of materialism, we may conclude that the materialistic approach and practices are detrimental to the health of our society and nation. Therefore we call upon the responsible people of our country to resolve as under:
1. The materialism prevailing in our social system be discarded as a way of life and the ideal of simple living and high thinking be emphasized in approach and practice.
2. We call upon our thinkers and intelligentsia class to realize the demands of the soul and sprit and guide our young generation to the ideals of healthy thoughts and simple living.
3. We call upon the educated lot of the society to realize the totality of the life and inculcate moral and spiritual ideas in to their family members' heart and mind.
4. We appeal to our academic people to reorient the social thoughts presented in the text books and prevailing in the society, and try to set a direction free from materialistic ideas.
5. We call upon the national media to play a responsible role and concentrate on nation building rather than profit making and commercial approach only.
6. We call upon the corporate people to shun the five star culture and save their fiscal resources to be utilized for philanthropic purposes and for bridging the gap between the haves and have-nots.
7. We propose and appeal to the central and state governments to overhaul and reorient our educational system to discard the materialistic thoughts from the curriculum and emphasize on the demands of morality and social justice.
8. We propose and appeal to every citizen of this country to strive for the betterment of the common man and the society as a whole and sacrifice some of their time and energy for this Nobel cause.