SERVING HUMANITY IS HIGHEST VIRTUE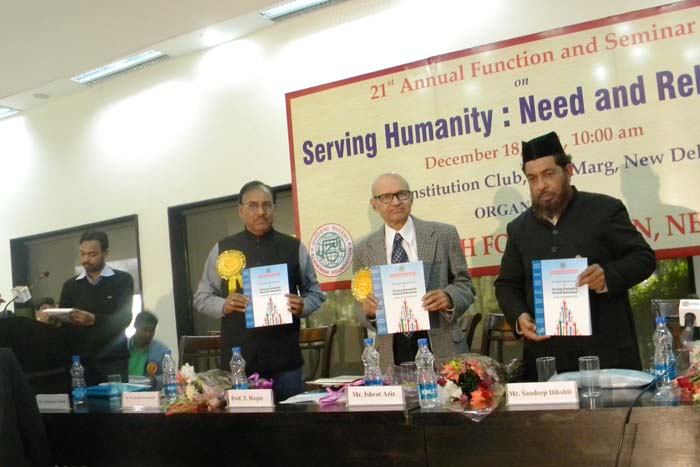 21st Annual Function and Seminar on
Serving Humanity : Need and Relevance
Held on Sunday, 18th December, 2011
Constitution Club, Rafi Marg, New Delhi
Alhikmah Foundation organized its 21st Annual Function on 18th December 2012 and on this occasion also organized a National Seminar on 'Serving Humanity: Need and Relevance'. It was inaugurate by Prof. T. Haq, Director, Council for Social Development, New Delhi. He said that Sikhism is the best and live practical example of the service to humanity. We should learn from them. He further said that all religions and intellectuals talks about service to humanity than what is the hitch, why we don't involve ourselves for this noble cause?

Honorary Chairman of Alhikmah Foundation Dr. Ziauddin Ahmad Nadvi delivered a very emotional welcome address. He said that no doubt education is one of the most important assets of a person and plays a pivotal role in shaping up a good human being. Nevertheless it is also true that education in itself is not the end rather a means only. Because had it alone possessed the power to mitigate the ills of the society, then the educated people could not have created innumerable problems that the humanity is facing in today's time. Education alone cannot and turn human being into a good citizen. Unless and until we imbibe in ourselves value system that teaches us how to conduct ourselves in the society. He further said that it is our duty to become a good citizen and also pursue our fellow countrymen to become good citizen.

Spokesman of Delhi Catholic Church Rev. Dr. Dominic Emmanuel said that though we do not perform huge tasks but whatever small act we do we do with love and affection. He quoted Vivekanand that only those remain alive who serve others while others die. And in today's world there are more dead than alive people on this earth. Quoting from the Holy Quran Father Emmanuel said that you are the best nation on the earth who has sent down for the benefit of the humanity. You order the good and restraint them from the bad.

Prof. Devendra Mishra, Delhi University said that there is no virtue as good as serving the other similarly there is no vice as bad as causing harm to others. Even animas do not attack without provocation whereas human beings create problems for other for no apparent reasons.
Prof. Shyam Sundar Aggarwal, Agra University said that we do not remember the names of our ancestors, however, name can be immortal if do selfless human service. In front of us we have excellent examples of Prophet Mohammad (P.B.U.H.), Jesus etc. Who served the humanity without seeking any reward for this service which is why their name is immortal. Appreciating the system of Zakat among the Muslims he said it is an excellent system to mitigate poverty. Professor M.M. Goel of Krukshetra University interpreted the meaning of good governance in the light of Bhagwat Gita. According to him good governance essentially entails serving the other without any expectation of the reward. Prof. Goel has evolved a 'SMART' formula for good governance i.e. Simple, Morality, Action oriented, Response and Transparency. He emphasized the need to confine ourselves to our needs only rather than running after the greed. Maulana Syed Sharafat Nadvi, Professor at Tajul Masajid, Bhopal started his speech with the recitation of the verse of the Holy Quran that means one who killed an innocent human being is as if killing the entire humanity while on the other hand he who saved a single soul is as if he saved the whole humanity. Prof. Nadvi narrated a Prophetic tradition that there are seventy parts Deen. The topmost is to recite La Ilaha Illallah Mohammadur Rasulullah and the last one is to remove an obstacle from the pathway. He underlined that this is one of the core tenets of the Islamic teachings. The moment a person takes birth in this world, he is surrounded by those who are ever ready to serve him. These include his parents, relatives, siblings, neighbors, etc. This is the first lesson taught to the human being that as he had been served during his infancy, right through toddling stage to his childhood in the same way he has to serve the others in his surroundings till his last breath. Our religion teaches us the core value of serving the others. Our Deen has two parts: Rights of Allah and Human Rights. Allah can forgive the violation of His rights, however, He can never ever pardon even slightest dereliction in the rights of human rights. Mind you all of this is to be carried out without seeking any reward and show off because it leads to polytheism and whosoever engages in such activities in acting sinfully. Prof. Nadvi highlighted the fact that Allah has created this world for inhabitation and not destruction. Allah has created atom but not atom bomb. Allah has created antidote but not the poison. He underscored that be courteous to the population of the earth and receive politeness from Allah in return. Prof. Nadvi pointed out that every single activity of a Muslim begins with Bismillahir Rahamanir Rahim i.e. In the name of Allah the Most Beneficent the Most Merciful. This is D'ua is recited just to inculcate the universal Islamic values of mercifulness and politeness which is applied to the whole humanity irrespective of religion, region, race, colour, cast or creed.


---
| | SEMINARS | | DATE |
| --- | --- | --- | --- |
| | ROAD MAP FOR PEACEFUL NATION BUILDING | | 13rd March 2016 |
| | MATERIALISM: BOON OR BANE | | 2nd March 2014 |
| | QUEST FOR PEACE AND PROSPERITY | | 17th February 2013 |
| | SERVING HUMANITY IS HIGHEST VIRTUE | | 18th December, 2011 |
| | SEERAT-E-PAAK (SAW) AUR PAYAM-E-INSANIYAT | | 27th March, 2011 |
| | INTERFAITH PARTNERSHIP FOR DEVELOPMENT | | 28th March, 2010 |
| | MAINTAINING PEACE: PRESENT CHALLENGES | | 29th March, 2009 |
| | HEALTHY VALUES, HEALTHY WORLD | | 30th December, 2007 |
| | ENSURING PEACE : CITIZENS' RESPONSIBILITIES | | 11th June, 2006 |
| | NATIONAL DEVELOPMENT & OUR RESPONSIBILITIES | | 5th June, 2005 |
| | YOUTH AND SOCIETY-MUTUAL RESPONSIBILITIES | | 18th July, 2004 |
| | KNOWLEDGE AS ABSOLUTE VALUE | | 18th May, 2003 |
| | RELIGION & COEXISTENCE | | 12th May, 2002 |
| | HEALTHY MINDS FOR HEALTHY SOCIETIES | | 6th May, 2001 |
| | CHARITY AND SOCIAL WELL-BEING | | 7th May, 2000 |
| | PARENT'S DUTIES TOWARDS THEIR CHILDREN | | 21st November, 1999 |
| | ROLE OF SACRIFICE AND MUTUAL COOPERATION | | 18th April, 1999 |
| | ECONOMIC HEALTH | | 18th October, 1998 |
| | PUBLIC HEALTH & UNANI MEDICINE | | 26th April, 1998 |
| | PHILOSOPHY OF SACRIFICE AND ITS SIGNIFICANCE IN HUMAN SOCIETY | | 3rd May, 1997 |
| | QURAN, HUM AND ASR-E-HAZIR | | 22nd June, 1996 |
| | HUMAN RIGHTS & ISLAMIC TEACHINGS | | 10th December, 1995 |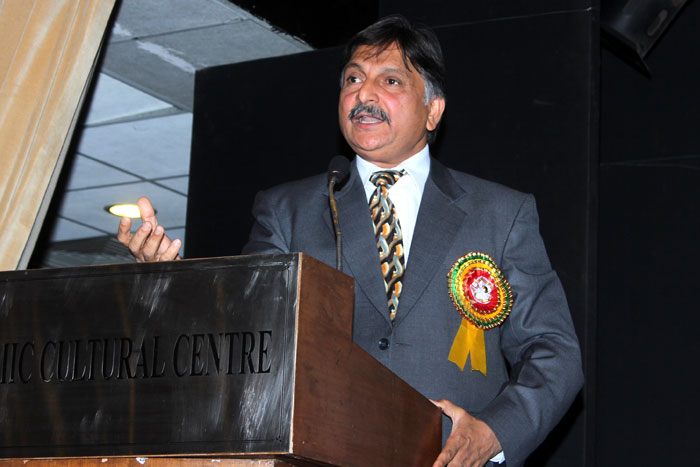 Prof. Shakir Jamil, Director General of Central Council for Research in Unani Medicine, Ministry of Health & Family Welfare, Government of India said it is a great irony that despite the fact that Islam accords highest order to the service and humanity still its followers are the targets of media bias and are being branded as terrorist. Prof. Jamil spelt out two main reasons for this tragedy. Firstly is that Muslim did not indulge themselves in the practical Da'wah and secondly they did not indulge in oral D'awah as well. Self-imposed audit is very important as well, said he. Former career diplomat Ambassador Ishrat Azeez, IFS (Ret'd) preside over the function. He began his presidential by talking about Emotional Quotient (EQ). He said that he was a strong believer in EQ. Patience holds the highest order in the EQ. It is the fundamental virtue preached in Islam. To win a marathon you have to be an honest and patient person. EQ is not related to the library books or knowledge preserved in the minds. Rather is EQ is concerned with the internalization of values. According to him EQ creates character. Revolutionaries possessed high EQ. Azeez quoted the examples of Gandhiji and Nelsom Mandela who reached the pinnacle by virtue of high EQ. He lamented that in today's world EQ is in the wane while on the other hand IQ is on the rise. He said that the main cause of societal woes is diminishing EQs.
On the occasion the Alhikmah Foundation distributed scholarships to the needy and meritorious students and gave away awards to organisations and individuals for their outstanding services to humanity. Organisations included UDAAN (Foundation for mentally handicapped persons) Delhi, Zia Academic Society,Kannauj (U.P) and Merim International, Delhi. While individuals included Mr. Ananda, Mirza Fareed Beg, Founding Chairman Jamia Cooperative Bank, Mr. Dinesh Jain of UFLEX Ltd. NOIDA, Mr. Mushahid Ali, Organizing Secretary of the Seminar and Mr. Musahrraf Husain, Social Worker. A Souvenir comprising the articles on the theme of the Seminar as well as messages and well wishes was released on the occasion. On this occasion a book titled "Quran ka Pegham e Amn" a collection of Quranic verses was also released.