ROAD MAP FOR PEACEFUL NATION BUILDING
Silver Jubilee Celebrations of Alhikmah Foundation & National Conference on "Road Map for Peaceful Nation Building"
Held on March 13, 2016 at India Islamic Cultural Centre, New Delhi
Alhikmah Foundation
completes
25 years of service to the nation.
To mark the Silver Jubilee the Foundation organised a national conference on "Road Map for Peaceful Nation Building".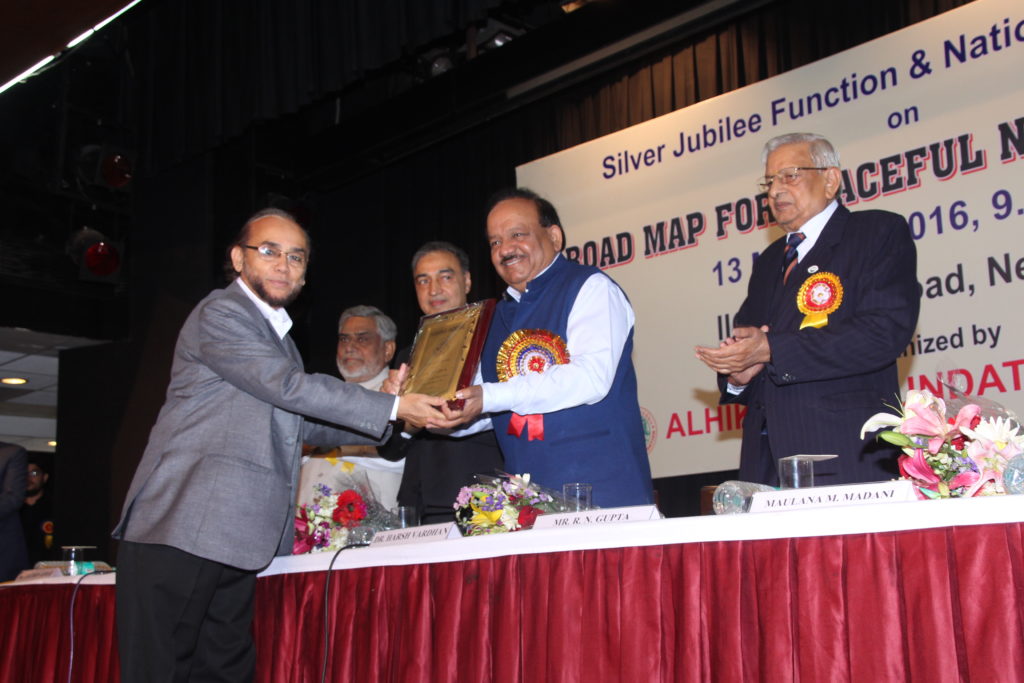 Dr.Ziauddin Ahmad, Chairman
---
He said that the Foundation over that past 25 years emphasises that we need to care for our parents, children,neighbours,friends etc. Foundation stresses the need to realise the role of our responsibilities and duties rather than fighting for our rights. Alhikmah believes that Peace is not a process rather it constitutes of some elements. Alhikmah run dispensaries has catered to almost 11 lakhs poor patients over the past 25 years. Prime Minister has given us a slogan SabkaSathSabkaVikas. But Alhikmah Foundation since its vey inception is working in this direction.
Mr.Ishrat Aziz, IFS, Former Ambassador, Govt. of India
People will be patient only if there is level playing field and equitable distribution of resources. Force can control people but cannot maintain peace. Every nation needs hardworking people. The problem is that people want more from the country than they give. I congratulate Alhikmah Foundation for the sincere work that they have done for the past 25 years.
Prof. AkhtarulWasey, Commissioner for linguistic Minorities, Govt. of India
---
(Keynote Address)
I congratulate Dr.Ziauddin and his staff that the sapling that they sow has turned into huge strong tree. In the world no progress is possible in the absence of peace. He quoted Hadith of Prophet Mohammad that what we chose for ourselves we must chose for others as well. We must treat others the way we would like to be treated. Our country is a mosaic of several languages, religions and races. Our responsibility is that we should crush all the negative and divisive forces. India turns into a great country by the camouflage of the beautiful traditions of all the religions. Justice is the key to peace. When peace is established development is ensured. Indian secularism is a binding force of all the all religions and races. Our aim should be to strengthen this bond of secularism. He called for Common Minimum Program to fight against poverty, gender, discrimination, drug and human trafficking etc. If India were to emerge as a major power by 2020 then it has to evolve as icon secularism and religious tolerance and turns into the spiritual capital of the world.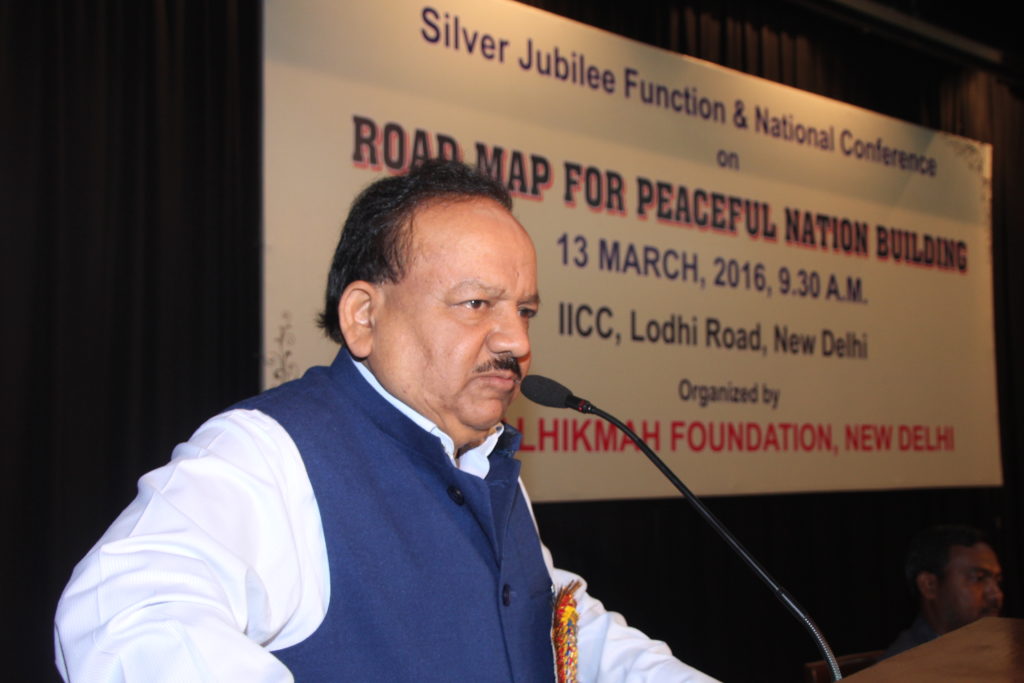 Dr. Harsh Vardhan(Chief Guest),
Hon'ble Minister, Ministry of Science and Technology and Earth Sciences, Govt. of India
---
It is an auspicious for an auspicious organisation. In my almost 25 years of public life I have travelled far and across the world but today is a special occasion for me. For the first time I have seen a Chairman of an NGO emphasising duties rather than rights. The moment our countrymen realise our duties our country will progress by leaps and bounds. A few miles you travel there is a change in everything including religion, language traditions etc. Our history stands witness that we have been leaders of the world in every aspect of human life including engineering, architecture, medicine etc. from 1st to 17th century our GDP was 32%. Alhikmah Foundation major contribution is in rejuvenating moral values. In ancient times no Indian can be termed as liar. Cosmetic surgery of nose was first time performed in India. Our scientific temperament was world renowned. Hundreds of years of ago before Edward Gener's discovery of vaccinationwe Indians have experimented with vaccination.The biggest religion is humanity. The right of the new-born child is that he has to be imbibed in with the religion of humanity and this is the hallmark of our civilisation. Recounting Swami Vivekanand's famous speech at the World Religions Council in 1893 in Chicago he appealed all of us to live, love and care for others.In the passage of time we have forgotten ourselves. We must take pledge to serve others. This lead to reduced poverty, illiteracy, malnutrition. Your national conference on Roadmaps for Peaceful Nation Building is sweetly timed. This is the need of the hour. It is high time that we should concentrate on this important topic. The key to today's programme is that we take pledge to rise our personal interests and take to serving others.He released the Silver Jubilee Celebrations souvenir of Alhikmah Foundation. He also gave away lifetime achievement award to renowned Urdu poet and Vice Chairman of Urdu Academy Mr.MajidDeobandi, Director NCPUL Prof. Irtiza Kareem, CA Anil Bajaj, Mr. Khalid Qureishi,KhaildQamar, AmeenRahman, Dinesh Jain, Vice Chairman UFlex, Mr.QamarulHasanBaig, Chairman Jamia Cooperative Bank, Industrialist Manish Gupta, Patron of Rahat FoundationDr.Prakash, Dr. M.D. Thomas, Prof. Devendra Mishra, Prof. (Dr.) Saud AlamWasmi, Dr.Dalip Kumar, Dr. Rajesh Jaiswal, Dr.ObaidullahFahad, Dr.Arshik Khan, Dr.AshharQadeer, Dean Faculty of Medicine, JamiaHamdards, Dr.Anjani Kumar Jha, Dr.SahkebArsalan, Mr.Afzalhasan, Dr.Nafees A. Siddiqui, Ex Principal ShaheedBhagat Singh College, Mr.JavedAlam, Prof. Mohammad Rafat, Mr.ShahidQureishi, Dr.Sagheer A. Siddiqui, Mr.YousufHaryali. The other awardees include Dr.Jaiswal, Mr. Adnan Khursheed,Mr.Naved Hamid, Mr. Dinesh Jain.
Alhikmah Foundation distributed scholarships, educational kits to meritorious and needy students.As part of rehabilitation program the Foundation also distributed sewing machines.
---
| | SEMINARS | | DATE |
| --- | --- | --- | --- |
| | ROAD MAP FOR PEACEFUL NATION BUILDING | | 13rd March 2016 |
| | MATERIALISM: BOON OR BANE | | 2nd March 2014 |
| | QUEST FOR PEACE AND PROSPERITY | | 17th February 2013 |
| | SERVING HUMANITY IS HIGHEST VIRTUE | | 18th December, 2011 |
| | SEERAT-E-PAAK (SAW) AUR PAYAM-E-INSANIYAT | | 27th March, 2011 |
| | INTERFAITH PARTNERSHIP FOR DEVELOPMENT | | 28th March, 2010 |
| | MAINTAINING PEACE: PRESENT CHALLENGES | | 29th March, 2009 |
| | HEALTHY VALUES, HEALTHY WORLD | | 30th December, 2007 |
| | ENSURING PEACE : CITIZENS' RESPONSIBILITIES | | 11th June, 2006 |
| | NATIONAL DEVELOPMENT & OUR RESPONSIBILITIES | | 5th June, 2005 |
| | YOUTH AND SOCIETY-MUTUAL RESPONSIBILITIES | | 18th July, 2004 |
| | KNOWLEDGE AS ABSOLUTE VALUE | | 18th May, 2003 |
| | RELIGION & COEXISTENCE | | 12th May, 2002 |
| | HEALTHY MINDS FOR HEALTHY SOCIETIES | | 6th May, 2001 |
| | CHARITY AND SOCIAL WELL-BEING | | 7th May, 2000 |
| | PARENT'S DUTIES TOWARDS THEIR CHILDREN | | 21st November, 1999 |
| | ROLE OF SACRIFICE AND MUTUAL COOPERATION | | 18th April, 1999 |
| | ECONOMIC HEALTH | | 18th October, 1998 |
| | PUBLIC HEALTH & UNANI MEDICINE | | 26th April, 1998 |
| | PHILOSOPHY OF SACRIFICE AND ITS SIGNIFICANCE IN HUMAN SOCIETY | | 3rd May, 1997 |
| | QURAN, HUM AND ASR-E-HAZIR | | 22nd June, 1996 |
| | HUMAN RIGHTS & ISLAMIC TEACHINGS | | 10th December, 1995 |
Maulana Mahmood Madani
President, Jamiat Ulema- e- Hind.
---
Today's topic of national conference is a vibrant one. The crux of peace is justice. As soon as we refer to justice we point to its establishment by judiciary and government. There is yet another dimension to it that is society. Let me share a few thoughts about Muslims. Muslims are the Nation of Call to Allah. But unfortunately, we have forgotten our responsibility. The leadership, the journalism and government exploits us emotionally and sentimentally as well. The Muslim cannot progress unless they determine their priorities and start working on them. I would like to submit that first we should try to remove our internal crises. Unfortunately, today we are more concerned to thwart off external crises. This is a wring diagnosis. A large majority of Muslim is illiterate andremain uneducated. In every sphere of human life, ironically we retard rather than progress. Fortunately enough, amongst us we have a noble organisation Alhikmah Foundation which is selflessly engaged in nation building. Almighty has provided me with the opportunity to propagate Allah message to my fellow countrymen and this is my test. I do believe that next will not be a victim emotional exploitation by the leadership, journalism and governments.
Mr.Sudhir Chandra,
Former Chairman, CBDT, Ministry of Finance, Govt. of India
---
The key to peaceful nation building is economic wellbeing. Quoting Abdul Kalam, "Do we not realise that self-respect comes from self-reliance". For this PM gave 3D Formula i.e. Democracy, Demography and Demand. The essential ingredients are 3S i.e. Skill, Scale and Speed. Our first priority is to establish economic well-being. This will lead to political empowerment, distinction between elite and poor collapses, care for others, sustainable development, sustainable environment, employment generations. We need to change our thought process. This will revolutionise the progress of our nation. We must inculcate the habit of giving rather than taking from the society. We must keep our utility alive for the society. This dimishies the lines of differences.Quoting Aristotle, "There is no greatness without simplicity" he termed Dr.ZiauddinNadwiand his team as majestic simplicity.
Dr.Sagheer A. Siddiqui,
Former Deputy Director, CCRUM, Govt. of India, (Introductory remarks of 2nd session)
Your benign presence is a barometer of your love and sympathy for the Foundation. Selfless service always pays. I invite all of you to get attached to the Foundation.
Kunwar Shekhar Vijandra
Chancellor, Shobhit University
---
He spoke on "Role of Education in Nation Building". I was little aware of Alhikmah Foundation, however, a chance meeting with its Chairman Dr.ZiauddinAhmadallayed many a fears. Value added education is a combination of both religious and scientific education. Today, nation is engrossed in skill development debate but unfortunately we have lost the way. In my opinion education is composed of three elements i.e. head, hand and heart. Today, we have divided the education into religious and scientific cells. The way forward from self to society is what I call value added education. The greed to snatch has overtaken the craving for knowledge. Value added education emphasises that we must learn to do away from certain evils. Today, the teacher stresses that I will teach you,''What to Think and not Why and How to Think''. This way we are manufacturing robots. The fixed mind-set spoils the very purpose of education. Each one has to teach one.
Prof. (Dr.) Shakeel Samadani
Faculty of Law, Aligarh Muslim University
---
Inaugurated the book in Urdu"Maddaparasti: RahmatyaZahmat" while Mr. R.N. Gupta released the English version of the same book "Materialism: Boon or Bane". The history stands witness to our glorious past. But why have lost these territories? The answer is that we pushed away Quran and hence lost everything. Data tell us that at the higher education level we gradually lose strength. In 1960s Muslim and Dalitswere almost at the same level of education. But in 2005 they raced past above us. The average monthly expenditure of Muslims is Rs. 900/-. This is in direct proportion to Muslim income. Muslim education is the bedrock of nation building. For the past one millennium we are living in this country as fellow countrymen. Our country is the largest democracy in the world that provides us the leverage to carry your favourite job. Leaving out Muslims from nation building creates roadblocks. We haveto form a pressure group which can honestly implement government schemes in the Muslim concentrated committee.
A large majority of BPL consists of Muslims let us come forward for their upliftment. We have to take responsibility for making their BPL and ration cards.He called upon the Muslim women to sensitise their husbands to help the underprivileged sections of the society for implementing the welfare schemes of the government. In the light of Sachar Committee I demand infrastructure development of Muslim concentrated areas. We must make attempts to frame guidelines for spending government money in Muslim areas. I suggest we should open primary schools to prepare feeder cadre rather than establishing institutions of higher education. We have to fight for Muslim seats under OBC category. When it comes to Muslim institutions South India fares high but unfortunately North India lags behind. He provided Muslim exclusive data to drive his point. If you are capable enough you take education responsibility of at least one child this way you can contribute towards personality development and ultimately nation building. We have the courage to stand up against injustice. Lauding the efforts of Alhikmah Foundation he appealed Muslims to imitate the social service of Alhikmah Foundation
Prof. (Dr.) Manoj K. Jha
Professor & Chairman, Department of Social Work, Delhi University
He Spoke on "Role of Politics in Nation Building". We must try to take politics out legislative politics. We must shun our short vision of seeing politics as "ticket vending machines". The 2014 elections aptly proved that BJP can win elections even without Muslim support. But our country is wonderful one it offers you high-voltage jolts more often than not. We have to revert to Nehruvianinclusive model of politics. We are passing through tough times. We have to build solidarity among us. This is the time of alternative politics. We have to change ourselves, our slogans, economics and leaders. Our friendly politics play with our emotions before attaching ourselves with any political party first we have to test them and if they pass than only we must go with them.
Dr.Raisur Rahman
Director General, CCRUM and Advisor (Unani), Govt. of India
He spoke on "Role of Healthcare in Nation Building". Today's topic is the need of the hour. Are we experiencing Nation building in the real sense of the word? Yes of course we have made strides in material development but spiritually we have nose-dived. Is it real peace? I honestly feel that we are not moving in the right direction. Try to respect others and then only we can command respect. We only pinpoint negativity. We are gradually drifting away from positivity. We must look at the virtues of each other than only we can progress in the positive direction.Nation building is only possible through inclusivity. Ego is the biggest enemy of humanity.
Dr.Waseemur Rahman
IRS, Deputy Commissioner Income Tax
---
He spoke on "Role of Youth in Nation Building". Youth or the new generation can excel in any field they wish. Nothing is impossible. Determination and dedication are the key to success. They government is making meaningful efforts in the field of education. To ensure nation building every citizen of India must be educated. Our minds must be clear that every student should be provided opportunities to excel in his/her respective domain of education.
Mr.Naved Hamid
President, All India MajlisMushawarat
---
Today's topic is so comprehensive and wide and warrants extensive debates and discussions. In the present scenario we are going through tough time. We need to kill self to serve others. He put forward an all-encompassing definition of nation. He highlighted that Muslims need not take any lessons from anybody on patriotism. Referring to Kargil War he pointed outMuslim constitute only three per cent of the defence yet the forty per cent of the martyrs were Muslims.In India there is no clash of religions.We need inclusive growth than only we can create a larger picture. We have to set our own agenda if we were to progress. We have save our beloved country from fascist forces than only we can progress in reality.
Prof. (Dr.) Saud AlamQasmi
Dean, Faculty of Theology, Aligarh Muslim University, Aligarh
---
I blame the capitalist class for leaving behind proletariat class with no choice. If the intellectual class and corporate people could have reached the poor in the slums than this bigoted image could not have erupted. The need of the hour is that elite must realise their responsibility. If the Muslims were to be the agent of social change then first they have to change themselves. Muslims lack constructive NGOs who can deliver the goods.
Mr. R. N. Gupta
Patron, Alhikmah Foundation
---
First of all I would like to congratulate Dr.ZiauddinNadwiand his team of dedicated staff for completing 25 years of yeomen service. Alhikmah Foundation is performing a commendable job. I believe that every locality must boast of such social service organisations. If we spend ten per cent of our income for the social welfarethen our nation would progress and crime rate falls down to appreciably negligible rate.He appealed to help, in whatever means we can, Alhikmah Foundation. He suggested that a book consisting of good teachings of all religions and it made be a compulsory in schools.
Mr. Syed Shoeb Ahmad proposed the formal vote of thanks.
The programme was well attended by people from all walks of life
The proceedings of the seminar were largely covered by the electronic and print media.