YOUTH AND SOCIETY-MUTUAL RESPONSIBILITIES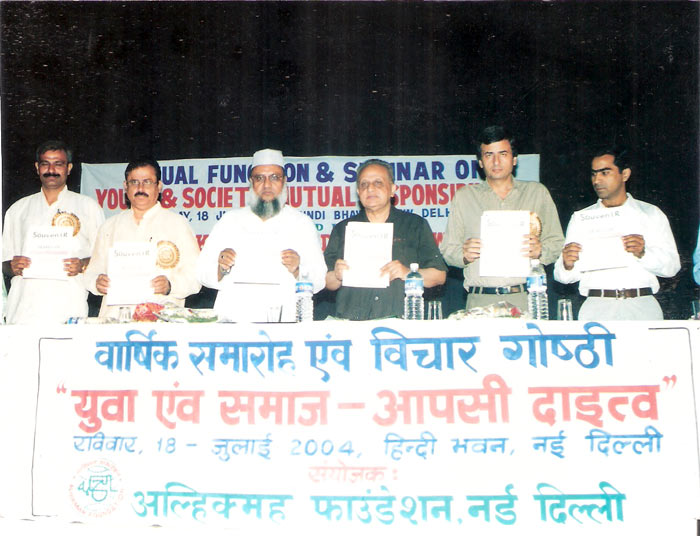 Annual Function and Seminar on
"Youth and Society-Mutual Responsibilities"
Held on 18 July 2004, at
Hindi Bhawan, 11, Vishnu Digamber Marg (Rause Avenue), Near Ball Bhawan, ITO, New Delhi
On the occasion of its 14th Annual Day celebrations organized in Hindi Bhavan, Alhikmah Foundation organized a seminar on the theme "Youth & Society – Mutual Responsibilities". Mr. Tarique Anwar, Hon'ble Member of Parliament was the Chief Guest. Prominent speakers like Prof. Devendra Misra, Head, Department of Sanskrit, University of Delhi, Maulana Sajjad Nomani, Chairman, Rehman Foundation & Member (Executive Committee) All India Muslim Personal Law Board, addressed the seminar.

The Youth has always held and shall always hold a special place in every society. The Society makes the citizen and the citizens make the society. It is society which nurtures the little citizens until they are able to use their intellectual faculties and then it is youth which adds a breath of fresh air with their innovative ideas and seemless energy to explore new horizon.

Taking it as a theme of the topic of seminar the speakers largely dealt with the subject and they agreed that there is silver lining in the mutual responsibilities of Youth and Society to each other.

Today's generation is perhaps the most privileged lot in terms of better opportunities of education and training in comparison to their brothers 30 years down the lane. However, in recent times youth seems to have drifted away from the collective nature of society and getting more individualistic. He looks more concerned about his own life and tend to ignore the contribution of family and society in his making. More and more young men are leaving their homes for better life in the cities. Migration to cities and metros is turning international. The meaning of life is changing. Money and comfort is the new code of life. All these have changed the concept of mutual responsibilities of youth and society. This environment needs to be changed by changing the education system itself.

Such subjects are to be introduced in our educational system that can imbibe in the minds of the youth their first responsibility toward the family and the society. A sense of mutual responsibility of youth and society has to be induced in the mind of the youth.

The great applauds from the audience and large and effective coverage from the media both electronic and print reflected a positive feed back about the response of the audience. Everyone felt that the selection of topic was the need of the time, and the problem requires clear understanding and application.


---
| | SEMINARS | | DATE |
| --- | --- | --- | --- |
| | ROAD MAP FOR PEACEFUL NATION BUILDING | | 13rd March 2016 |
| | MATERIALISM: BOON OR BANE | | 2nd March 2014 |
| | QUEST FOR PEACE AND PROSPERITY | | 17th February 2013 |
| | SERVING HUMANITY IS HIGHEST VIRTUE | | 18th December, 2011 |
| | SEERAT-E-PAAK (SAW) AUR PAYAM-E-INSANIYAT | | 27th March, 2011 |
| | INTERFAITH PARTNERSHIP FOR DEVELOPMENT | | 28th March, 2010 |
| | MAINTAINING PEACE: PRESENT CHALLENGES | | 29th March, 2009 |
| | HEALTHY VALUES, HEALTHY WORLD | | 30th December, 2007 |
| | ENSURING PEACE : CITIZENS' RESPONSIBILITIES | | 11th June, 2006 |
| | NATIONAL DEVELOPMENT & OUR RESPONSIBILITIES | | 5th June, 2005 |
| | YOUTH AND SOCIETY-MUTUAL RESPONSIBILITIES | | 18th July, 2004 |
| | KNOWLEDGE AS ABSOLUTE VALUE | | 18th May, 2003 |
| | RELIGION & COEXISTENCE | | 12th May, 2002 |
| | HEALTHY MINDS FOR HEALTHY SOCIETIES | | 6th May, 2001 |
| | CHARITY AND SOCIAL WELL-BEING | | 7th May, 2000 |
| | PARENT'S DUTIES TOWARDS THEIR CHILDREN | | 21st November, 1999 |
| | ROLE OF SACRIFICE AND MUTUAL COOPERATION | | 18th April, 1999 |
| | ECONOMIC HEALTH | | 18th October, 1998 |
| | PUBLIC HEALTH & UNANI MEDICINE | | 26th April, 1998 |
| | PHILOSOPHY OF SACRIFICE AND ITS SIGNIFICANCE IN HUMAN SOCIETY | | 3rd May, 1997 |
| | QURAN, HUM AND ASR-E-HAZIR | | 22nd June, 1996 |
| | HUMAN RIGHTS & ISLAMIC TEACHINGS | | 10th December, 1995 |