MAINTAINING PEACE : PRESENT CHALLENGES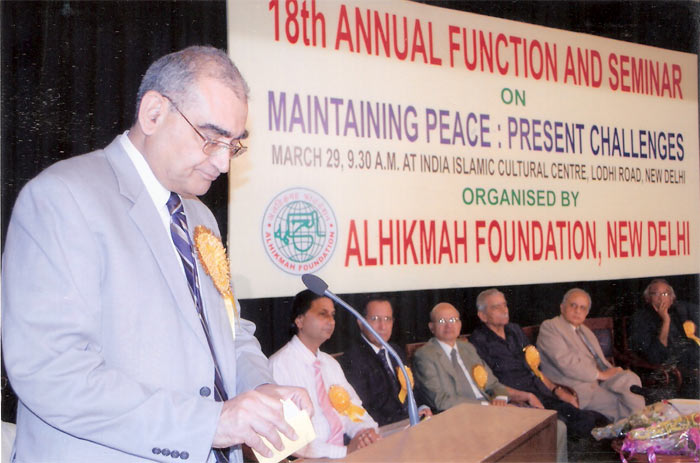 Annual Function and Seminar on
Maintaining Peace: Present Challenges
Held on 29 March 2009 at,
India Islamic Cultural Centre, Lodhi Road, New Delhi
As a sequel to the series of seminar on different aspect of world peace, the Alhikmah Foundation organized a Seminar on the topic "Maintaining Peace : Present Challenges" on the occasion of its 18th Annual function at India Islamic Cultural Centre, New Delhi on 29th March 2009. The theme of the seminar was based on the prevailing condition of law and order problem and disturbances in the society on the global level. There is palpable unease in all spheres of life these days. Nobody seems to be happy and satisfied with his life despite the fact that every one is able to set higher goals in life and make more money than ever but the joy is missing. All good things fail to bring happiness. There is only stress and anxiety. All this requires peace in society.

For a city household everything needed for modern day living is present – TV, Referigerator, Washing machines, Bike and Car etc. For this all you need is money and to make money there is share markets, real estate, trading and lots. Even then we are not happy. Youngsters are rapidly falling prey to various diseases, incidence of kidnapping, raping, terror attack have become a global phenomenon. It is believed that until we return to the sovereign rule of welfare state maintaining equal rights , justice and fair distribution of money for all citizens, peace will continue to elude us. It is under this background that the topic like "Maintaining Peace; Present Challenges" has been chosen for seminar to be discussed in detail. Mr. Markendey Katju, Hon'ble Judge, Supreme Court of India was the Chief Guest. Dr. Ibrahim M. Albatshan, Cultural Attache to Embassy of Kingdom of Saudi Arabia and Mr. Shanti Bhushan, former Law Minister and Senior Advocate of Supreme Court of India were Guest of Honor. The seminar was Presided over by Dr. Tahir Mehmood.

The speakers on the occasion included Dr. Naushad Ali Syed, President, Kalidas Ghalib Foundation, Mr. Neeraj Sharma, President, Ghalib and Kalidas Society, Mr. Prashant Bhushan, Civil Rights Activist and Advocate, Supreme Court, Mr. Sirajuddin Qureshi, President, IICC, Dr. S. Farooqu, President, All India Education and Social Welfare Society and Mr. Dines Jain, Joint President Group HR, Uflex Ltd.

Speaking as the Chief Guest Supreme Court Judge, Justice Markunde Katju expressed that India is a country of Great Diversity and if we have to run this country we have to accord equal respect to every citizen. Our secular constitution is a great binding force that holds together various tribes, religion, caste and community and in this context he applauded the efforts of Pandit Jawahar Lal Nehru for creating a secular India. He also expressed that there is a need for popularizing the documentary evidences that would show that the Muslim rulers promoted communal harmony by giving financial aids to numerous Hindu Temples as well as participating in the Hindu festivals and rituals. It is the need of the hour to rewrite the history with a secular outlook. He also criticized the electronic media for vilifying and painting a bad image of Muslims. Supreme Court lawyer and Civil Rights activist Mr. Shanti Bhushan talked about communal and fascist tendencies that have been thriving in our society since 1984 and in this connection he also referred to the recent hate speech of Varun Gandhi as very serious offence under the constitution. To fight these communal tendencies he suggested the formation of a statutory body such as Communal Harmony Commission with power to prosecute the offender.

Former Ambassador Mr. Ishrat Aziz in his Keynote address felt that justice is the main ingredient of peace. To make his point more clear he quoted some verses from famous Urdu Poet Jigar Moradabadi composed on the occasion of 26th January 1950 (meaning intellect and nature are the two conflicting entities that prevent man from doing justice). Mr. Aziz pointed out that the most important challenges today are the increasing population and environmental pollution and expressed his belief that through democracy and new and modern technologies we can establish peace by promoting justice. Speaking on the occasion in his own Arabic language the Cultural Attache of Saudi Arabia, Dr. Ibrahim M. Albatshan stated that I feel elated to be amongst the audience and I think that there is great similarity between Ghalib and Mutnabi (Arabic Poet), hence it is time to promote Ghalib in the Arab world. All the prominent speakers threw light on the various aspects of the theme and expressed that there is need to establish justice, equality, fulfillment of rights, provision for employment and respect to all religion to establish peace in the world at large.


---
| | SEMINARS | | DATE |
| --- | --- | --- | --- |
| | ROAD MAP FOR PEACEFUL NATION BUILDING | | 13rd March 2016 |
| | MATERIALISM: BOON OR BANE | | 2nd March 2014 |
| | QUEST FOR PEACE AND PROSPERITY | | 17th February 2013 |
| | SERVING HUMANITY IS HIGHEST VIRTUE | | 18th December, 2011 |
| | SEERAT-E-PAAK (SAW) AUR PAYAM-E-INSANIYAT | | 27th March, 2011 |
| | INTERFAITH PARTNERSHIP FOR DEVELOPMENT | | 28th March, 2010 |
| | MAINTAINING PEACE: PRESENT CHALLENGES | | 29th March, 2009 |
| | HEALTHY VALUES, HEALTHY WORLD | | 30th December, 2007 |
| | ENSURING PEACE : CITIZENS' RESPONSIBILITIES | | 11th June, 2006 |
| | NATIONAL DEVELOPMENT & OUR RESPONSIBILITIES | | 5th June, 2005 |
| | YOUTH AND SOCIETY-MUTUAL RESPONSIBILITIES | | 18th July, 2004 |
| | KNOWLEDGE AS ABSOLUTE VALUE | | 18th May, 2003 |
| | RELIGION & COEXISTENCE | | 12th May, 2002 |
| | HEALTHY MINDS FOR HEALTHY SOCIETIES | | 6th May, 2001 |
| | CHARITY AND SOCIAL WELL-BEING | | 7th May, 2000 |
| | PARENT'S DUTIES TOWARDS THEIR CHILDREN | | 21st November, 1999 |
| | ROLE OF SACRIFICE AND MUTUAL COOPERATION | | 18th April, 1999 |
| | ECONOMIC HEALTH | | 18th October, 1998 |
| | PUBLIC HEALTH & UNANI MEDICINE | | 26th April, 1998 |
| | PHILOSOPHY OF SACRIFICE AND ITS SIGNIFICANCE IN HUMAN SOCIETY | | 3rd May, 1997 |
| | QURAN, HUM AND ASR-E-HAZIR | | 22nd June, 1996 |
| | HUMAN RIGHTS & ISLAMIC TEACHINGS | | 10th December, 1995 |
Delivering the Presidential speech Prof. Tahir Mehmood noted that it is an irony that every religion preaches peace but followers do not show this through their action and thought. It is the responsibility of mothers to educate their children to preach humanity to their next generation. On this occasion the Chief Guest Mr. Markundy Katju presented 'Alhikmah Cultural Promotion Award' to Dr. Ibrahim Al Batshan, Cultural Attache to Saudi Arabia. Token Awards were also given to Mr. Sirajuddin Qureshi, President of IICC, for promotion of Islamic Culture, Dr. S. Farooque for promotion of education, Mr. Aziz Burney, Editor, Rashtriya Sahara Urdu for journalism, Mr. Jamil Murtaza, former Chief Metropolitan Magistrate for education, Mr. R. L. Gupta for social service, Mr. Shahid Qureshi, Chairman, Marim International for Education, Mr. Neeraj Saran for Communal Harmony, Mr. Viqar Ali for Social Service, Dr. Sirajuddin Ahmad and Syed Shuaib Ahmad for Education.

The Awards comprised of a Memento, a shawl and a Certificate of appreciation. On this occasion Justice Katju also released the sovenier of Alhikmah Foundation as well as a booklet on Peace: Qur'anic Concepts and Prophet's teachings. The Foundation also distributed half a dozen Sewing Machines to poor women and Wheel Chairs to handicapped. Cash prizes were also given away to two students for out standing achievements in the field of education.