KNOWLEDGE AS ABSOLUTE VALUE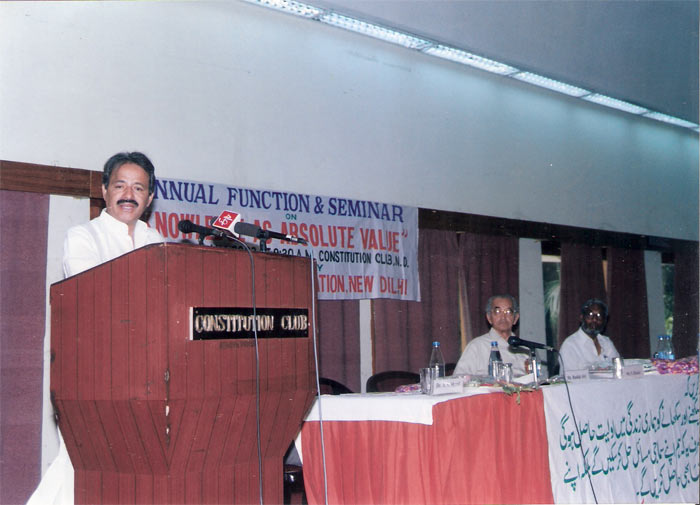 Seminar on Knowledge as Absolute Value
Held on 18th May 2003, at
Constitution Club, Rafi Marg, New Delhi
Alhikmah Foundation organized its 14th Annual day on 18th May 2003. A Seminar was also organized on this day at Constitution Club, Rafi Marg, New Delhi.
The theme of the seminar was 'Knowledge as Absolute Value'. This topic was selected for seminar with a purpose to have a conscious effort to engage people in a discussion about the meaning of life and its association with knowledge.

The career oriented education of today does not teach the students about their other obligations in life. The perfect knowledge can only be the knowledge revealed by the Almighty Himself and conveyed to the mankind through his apostles. The right mix of this knowledge and contemporary education may give the life its true meaning and make the world a better place to live. Abstract and worldly Knowledge comes from God. We must use it the way God wants it else we will be doomed. No school can boost of providing geniuses. This is a gift of God.

The Annual Day Conference and the seminar was organized in Constitution Club under the Presidentship of Mr. Saiyid Hamid, Chancellor, Jamia Hamdard, New Delhi. While Mr. Rashid Alvi, Hon'ble Member of Parliament (Lok Sabha) was the Chief Guest. The keynote address was given by the Dr. Abu Saleh Sharief, Director, NCAER, New Delhi.

Speaking as the Chief Guest Mr. Rashid Alvi emphasized the need of Knowledge and expressed that the countries which have dominance over the world politics are those who dominate academic spheres. In this regard he quoted the saying of Khan Abdul Ghaffar Khan "if you wish to come into politics, you have to acquire education".

Speaking on the occasion Mr. Saiyid Hamid, Chancellor of Jamia Hamdard in his presidential address said that struggle never meant that an individual would change all situations but every individual effort may smoothen ways for a change. He asked the Muslims to come forward and should not depend on the findings of the earlier scholars but be able to add in them with their own discoveries so as to increase the human resources.

Speaking on the various aspects of the topic "Knowledge as Absolute Value" almost all the speakers advocated that Knowledge must be based on social values and emphasized that society was reeling under a scourge of social problem and only knowledge based on absolute value can free people from their miseries. The speakers asked the people to study all religious books and pick up the pearl of knowledge from them as they could make them successful here and the hereafter.

Knowledge must be available free of cost for future generations and it should be acquired through research process. Muslim community especially should come forward and take interest in acquiring the modern knowledge, develop their thinking power and guide the world. The talks of different scholars were very much informative, appreciated by the gathering and was also covered by print and electronic media.


---
| | SEMINARS | | DATE |
| --- | --- | --- | --- |
| | ROAD MAP FOR PEACEFUL NATION BUILDING | | 13rd March 2016 |
| | MATERIALISM: BOON OR BANE | | 2nd March 2014 |
| | QUEST FOR PEACE AND PROSPERITY | | 17th February 2013 |
| | SERVING HUMANITY IS HIGHEST VIRTUE | | 18th December, 2011 |
| | SEERAT-E-PAAK (SAW) AUR PAYAM-E-INSANIYAT | | 27th March, 2011 |
| | INTERFAITH PARTNERSHIP FOR DEVELOPMENT | | 28th March, 2010 |
| | MAINTAINING PEACE: PRESENT CHALLENGES | | 29th March, 2009 |
| | HEALTHY VALUES, HEALTHY WORLD | | 30th December, 2007 |
| | ENSURING PEACE : CITIZENS' RESPONSIBILITIES | | 11th June, 2006 |
| | NATIONAL DEVELOPMENT & OUR RESPONSIBILITIES | | 5th June, 2005 |
| | YOUTH AND SOCIETY-MUTUAL RESPONSIBILITIES | | 18th July, 2004 |
| | KNOWLEDGE AS ABSOLUTE VALUE | | 18th May, 2003 |
| | RELIGION & COEXISTENCE | | 12th May, 2002 |
| | HEALTHY MINDS FOR HEALTHY SOCIETIES | | 6th May, 2001 |
| | CHARITY AND SOCIAL WELL-BEING | | 7th May, 2000 |
| | PARENT'S DUTIES TOWARDS THEIR CHILDREN | | 21st November, 1999 |
| | ROLE OF SACRIFICE AND MUTUAL COOPERATION | | 18th April, 1999 |
| | ECONOMIC HEALTH | | 18th October, 1998 |
| | PUBLIC HEALTH & UNANI MEDICINE | | 26th April, 1998 |
| | PHILOSOPHY OF SACRIFICE AND ITS SIGNIFICANCE IN HUMAN SOCIETY | | 3rd May, 1997 |
| | QURAN, HUM AND ASR-E-HAZIR | | 22nd June, 1996 |
| | HUMAN RIGHTS & ISLAMIC TEACHINGS | | 10th December, 1995 |