INTERFAITH PARTNERSHIP FOR DEVELOPMENT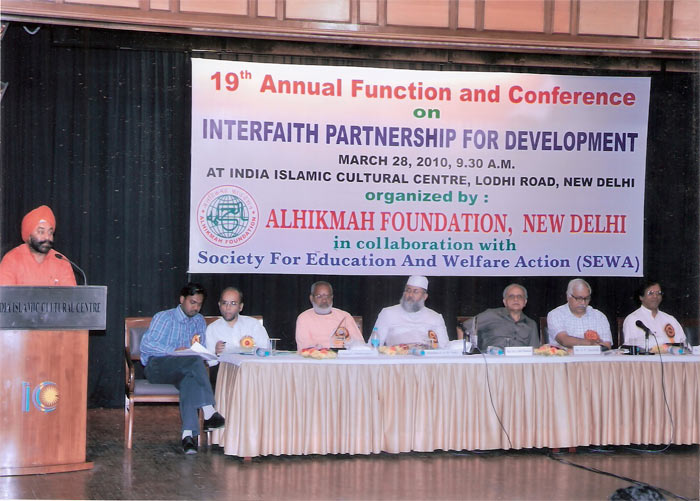 Annual Function & National Conference on
Interfaith Partnership for Development
Held on 28 March 2010 at
India Islamic Cultural Centre, 87-88 Lodhi Road, New Delhi
The general perception about development is that, when nation grow people benefit. But most often it is an exception rather than a rule. The sprit of inclusive growth is seen in states where government approach is largely welfarist. In a global world a large number of people are left behind. The gap between poor and rich is widening despite the best efforts and intention of the government. One of the factor behind it is the increasing hold of companies over resources which are basically unconcerned about the interest of common people as they are under no obligation or commitment towards social welfare. In contrast the religious community have an excellent record of social service specially in the field of health and education. A large number of such institution representing all faiths are serving people across the length and breath of the country. The scope and dimension of community service are unlimited. What is needed is a sense of responsibility in all of us so that we understand the plight and misery of faceless poor who have no religious identity except their poverty. There is general agreement among all faiths that all of us are the children of same parents – Adam and Eve. The world is a family of God and all faiths have certain provisions which mandate care of poor downtrodden and weak. How can we act so indifferently when it comes to sharing bounties of nature or the joys and sorrow of life together.

As we pay taxes to the government we tend to forget that there is another tax levied by God to set aside a certain amount for the welfare of the poor people. It is a duty to be performed by every well to do person, no matter which faith he belongs to. It is under this background that Alhikmah Foundation has chosen the topic "Interfaith Partnership for Development", for the seminar organized on the 19th Annual Day Function of the Foundation held on 28th March 2010 at India Islamic Culture Centre, New Delhi.
To be true this seminar is the sequel to the series on "Peace & Development" that was started exactly 5 years ago in the year 2005. Actually in the year 2005 on the similar occasion – Annual Day Function the Foundation launched this series with a topic on National Development and our Responsibilities. On that occasion leading figures of four vital spheres of our life viz Media, Education, Religion and Politics expressed their views with special reference to the responsibilities of their respective fields.

The 2006 seminar was focused at investigating the proper place for peaceful environment in development viz a viz the citizen's responsibility thereof. The spot light in 2007 was on Healthy Value for establishing peace. Last year we discussed the topic Present Challenges in Maintaining Peace. The centre of our attention today is how the followers of different faiths can come forward and join hands for the cause of National Development while at the same time strictly adhering and practicing the tenets of their respective religions. All these topic are self telling about the ideological inclination and orientation of the group as such.

Dr. S. Y. Qureshi, IAS and the Election Commissioner of India was the Chief Guest in the seminar and it was presided over by Dr. Tahir Mehmood, former Chairman, National Commission for Minorities.
The speakers in this seminar comprised of Maulana Salman Hussaini Nadvi, Prof. and Faculty of Sharia, Darul Uloom Nadva and Rector, Jamia Saiyid Ahmad Shaheed, Lucknow, Swami Laxmi Shankaracharya, Founder President, Hindu Muslim Ekta Manch and Chairman, Bharat Jan Sewa Trust, Dr. M. D. Thomas, National Director, Commission of Religious Harmony, CBCI, New Delhi and Dr. Harvinder Singh, General Secretary of AIBEA.

In the inaugural speech of the seminar Dr. Ziauddin Ahmad, Chairman, Alhikmah Foundation explained that this topic Interfaith Partnership for Development is the culmination of the series on Peace and National Development started in the year 2005. He expressed that it is incumbent upon all of us to maintain peace and tranquility at any cost and we must always observe moral and ethical values derived from our respective faiths for the establishment of peace. He asked the speakers to come forward and discuss the different aspect of the topic in detail.


---
| | SEMINARS | | DATE |
| --- | --- | --- | --- |
| | ROAD MAP FOR PEACEFUL NATION BUILDING | | 13rd March 2016 |
| | MATERIALISM: BOON OR BANE | | 2nd March 2014 |
| | QUEST FOR PEACE AND PROSPERITY | | 17th February 2013 |
| | SERVING HUMANITY IS HIGHEST VIRTUE | | 18th December, 2011 |
| | SEERAT-E-PAAK (SAW) AUR PAYAM-E-INSANIYAT | | 27th March, 2011 |
| | INTERFAITH PARTNERSHIP FOR DEVELOPMENT | | 28th March, 2010 |
| | MAINTAINING PEACE: PRESENT CHALLENGES | | 29th March, 2009 |
| | HEALTHY VALUES, HEALTHY WORLD | | 30th December, 2007 |
| | ENSURING PEACE : CITIZENS' RESPONSIBILITIES | | 11th June, 2006 |
| | NATIONAL DEVELOPMENT & OUR RESPONSIBILITIES | | 5th June, 2005 |
| | YOUTH AND SOCIETY-MUTUAL RESPONSIBILITIES | | 18th July, 2004 |
| | KNOWLEDGE AS ABSOLUTE VALUE | | 18th May, 2003 |
| | RELIGION & COEXISTENCE | | 12th May, 2002 |
| | HEALTHY MINDS FOR HEALTHY SOCIETIES | | 6th May, 2001 |
| | CHARITY AND SOCIAL WELL-BEING | | 7th May, 2000 |
| | PARENT'S DUTIES TOWARDS THEIR CHILDREN | | 21st November, 1999 |
| | ROLE OF SACRIFICE AND MUTUAL COOPERATION | | 18th April, 1999 |
| | ECONOMIC HEALTH | | 18th October, 1998 |
| | PUBLIC HEALTH & UNANI MEDICINE | | 26th April, 1998 |
| | PHILOSOPHY OF SACRIFICE AND ITS SIGNIFICANCE IN HUMAN SOCIETY | | 3rd May, 1997 |
| | QURAN, HUM AND ASR-E-HAZIR | | 22nd June, 1996 |
| | HUMAN RIGHTS & ISLAMIC TEACHINGS | | 10th December, 1995 |
Speaking on the occasion as the Chief Guest Dr. S. Y. Qureshi, the Election Commissioner expressed that all the religion preach the same notion of harmony and development. Faith leaders are the most portent agents of change hence they can combine together to forge a positive developmental and constructive agenda. As far as Interfaith is concerned, Faith Leaders can play a leading role in national development.
While expressing his views on the topic of the seminar Maulana Salaman Hussaini Nadvi in the beginning itself said that the time of the seminar is very important. He extensively quoted from the Holy Qur'an to justify the claim that Islam promotes individual as well as national development. The Islam teaches an individual the basic principles of life in different fields such as moral, ethics, education, general welfare, sacrifice and charity etc. Prophet Mohammed (SAW) displayed the highest ideals of moral that were even today. Wisdom warrants that we should extract whatever virtues are available in different faiths in order to develop and create an ideal state.
The Holy Qur'an enjoins that since all of us are the sons and daughters of one father therefore followers of all the religions must be brought on one platform. Holy Qur'an highlights that all the people are the family of Allah and Allah is pleased with those who take care of the followers of other religions fairly. Islam lays great importance of social service.
The religious persons from different religions should not confine to their respective religions, rather they must come forward together and ask the people to shun the materialism and join the mainstream. An interfaith movement has to be created if this noble dream has to be realized. Speaking on the occasion Swami Luxmi Shankaracharya profusely quoted from his religious scriptures to present vedic teachings related to national development.
He pointed out that these are prerequisites for development.
Intellectuals who are capable of preaching the basic tenets of development;
All the citizens willing for development
Pro-citizen government. He also expressed that development should not be self centric while at the same time over looking or harming the interest of others. Reasons behind all these misdeeds are that fear of God has diminished. He further pointed out that for the real development of the nation it has to be multifaceted. The more we are acquiring education and knowledge the more we are getting uncivilized and gaudy. Though we feel that we are developing in the actual term we are impeding. For real development the followers of every religion should join hands together and play some positive role in the process of development. Then only there will be Interfaith Partnership in Development.

Addressing the seminar Dr. M. D. Thomas appreciated the efforts of Alhikmah Foundation for bringing the persons of different faiths on one platform and told that mutual cooperation is the key for national development and expressed his belief that it is through development that gap between haves and haves not can be bridged.

The brotherly love is not emerging among us. In this context he also referred to the Gujarat and Orissa events of massacre and told that they are the big question mark on the claim of development in terms of communal harmony. He further said that all of us have to emerge out of the bigoted boundaries of religions with the mentality that religious tradition of every religion are equal. It is the key to Interfaith Partnership for Development. We have to promote the culture of living together.

Speaking on the occasion Dr. Harvinder Singh, General Secretary of AIBEA said that if we confined a mutual way among the different religions, then surely we can go along the path of progress. None of the religion preaches hatred and disharmony, but stress on the love of mankind. If they utilize this asset in a positive manner then we are bound for development. Inter faith partnership in development will be possible if we all come forward for national development with supreme faith.

In his presidential address Dr. Tahir Mehmood expressed that all the three words of today's topic of seminar Interfaith – Partnership and Development are very important. The partnership is much beyond cooperation and collaboration because in partnership all of the players are equal in status. For this we have to come together on equal terms and over come our interfaith disparities. He also explained that the model of interfaith partnership was first propogated by Prophet Mohammed (SAW) some 14 hundred years ago. He also pointed out that at the global level the combined population of Christian and Muslims stand in majority, therefore their partnership is essential for any development process. Islam places highest emphasis on social development. On this occasion Souvenir of Alhimah Foundation was also released by the Chief Guest Dr. S. Y. Qureshi and he also distributed scholarships to meritorious students. Dr. Tahir Mehmood distributed Sewing Machines to poor women. Dr. M. D. Thomas distributed Wheelchairs to physically handicapped on behalf of the Foundation.
Mementos and shawls were also presented to Dr. Y. S. Qureshi, Janab Salman Nadvi, Shri Shankaracharya, Dr. M. D. Thomas and Dr. Harvinder Singh for different fields.