NATIONAL DEVELOPMENT & OUR RESPONSIBILITIES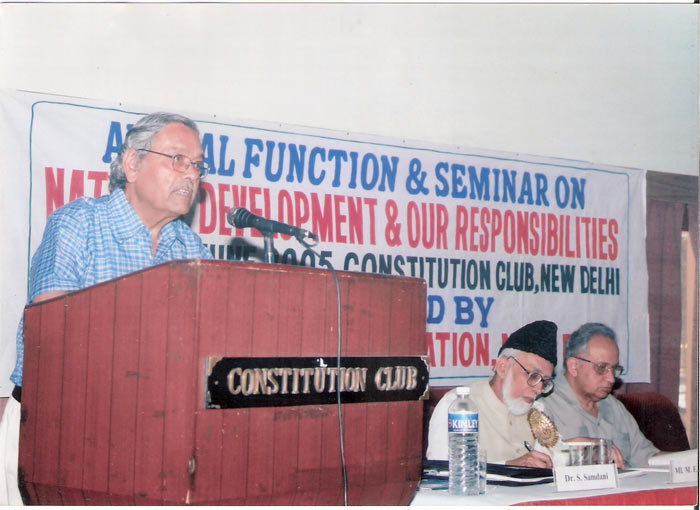 Seminar on National Development & our Responsibilities
Held on 5th June, 2005, at
Constitution Club, Rafi Marg, New Delhi
The Nation and the people are a single entity, like the two sides of a coin. Both are indispensable to each other. Both compliment each other, with out one the other is incomplete. It is the partnership that has to be sustained and nurtured by both. It is necessary that both the parties – the people and the nation understand their obligation to each other and honour them.

This was the theme of seminar on "National Development and our Responsibilities" organized by the Alhikmah Foundation on the occasion of its 15th Annual Day Celebrations held on 5th June 2005 at Constitution Club, New Delhi.

While the seminar was presided over by Dr. Tahir Mehmood, Member of National Commission for Religious and Linguistic Minorities, Mr. Shahid Siddiqui, Hon'ble Member of Parliament (Rajya Sabha) was the Chief Guest. Mr. Saiyid Hamid, Chancellor, Jamia Hamdard University, Presented the Keynote Address. Swami Agnivesh, President, World Council of Arya Samaj was the Guest of Honour.

The main speakers on the occasion included of Prof. Imtiyaz Ahmad, JNU, New Delhi, Dr. Abuzar Kamaluddin, Vice Chairman, Bihar Intermediate College, Dr. Shakil Samdani, Reader, Department of Law, AMU, Aligarh and Maulana Aijaz Ahmad Aslam, Assistant Secretary, Jamaat-e-Islami Hind, New Delhi. Speaking on the occasion Mr. Shahid Siddiqui expressed that the progress of the nation depends not only on economic development, but social development was as necessary. India can not become a super power without the participation of all sections of society belonging to different religion, caste and community including the Muslims participation in the process of economic development and to remove the hurdles in the way of progress by mutual cooperation and coordination. All the communities should also have equal share in the outcome of national development.

In his keynote address Mr. Saiyid Hamid emphasized the need for education and social equality for the development of India as a nation. Prof. Imtiyaz Ahmad focused on the role of educational institution on social development Dr. Abuzar Kamaluddin threw light on the economic aspect of social development and Dr. Shakil Samdani focused on the role of politician in national development while Maulana Aijaz Ahmad Aslam focused on the role of religious leaders in national development.

In his Presidential address Dr. Tahir Mehmood expressed that the youth of the nation are to be brought forward to participate in the national development. Education is the only medicine for all the social ills. To acquire knowledge through education is our main responsibility. He also said that Muslims must come forward and play a positive role in the process of national development.

The deliberations were very much appreciated by the audience and were largely covered by various media both print and electronic.


---
| | SEMINARS | | DATE |
| --- | --- | --- | --- |
| | ROAD MAP FOR PEACEFUL NATION BUILDING | | 13rd March 2016 |
| | MATERIALISM: BOON OR BANE | | 2nd March 2014 |
| | QUEST FOR PEACE AND PROSPERITY | | 17th February 2013 |
| | SERVING HUMANITY IS HIGHEST VIRTUE | | 18th December, 2011 |
| | SEERAT-E-PAAK (SAW) AUR PAYAM-E-INSANIYAT | | 27th March, 2011 |
| | INTERFAITH PARTNERSHIP FOR DEVELOPMENT | | 28th March, 2010 |
| | MAINTAINING PEACE: PRESENT CHALLENGES | | 29th March, 2009 |
| | HEALTHY VALUES, HEALTHY WORLD | | 30th December, 2007 |
| | ENSURING PEACE : CITIZENS' RESPONSIBILITIES | | 11th June, 2006 |
| | NATIONAL DEVELOPMENT & OUR RESPONSIBILITIES | | 5th June, 2005 |
| | YOUTH AND SOCIETY-MUTUAL RESPONSIBILITIES | | 18th July, 2004 |
| | KNOWLEDGE AS ABSOLUTE VALUE | | 18th May, 2003 |
| | RELIGION & COEXISTENCE | | 12th May, 2002 |
| | HEALTHY MINDS FOR HEALTHY SOCIETIES | | 6th May, 2001 |
| | CHARITY AND SOCIAL WELL-BEING | | 7th May, 2000 |
| | PARENT'S DUTIES TOWARDS THEIR CHILDREN | | 21st November, 1999 |
| | ROLE OF SACRIFICE AND MUTUAL COOPERATION | | 18th April, 1999 |
| | ECONOMIC HEALTH | | 18th October, 1998 |
| | PUBLIC HEALTH & UNANI MEDICINE | | 26th April, 1998 |
| | PHILOSOPHY OF SACRIFICE AND ITS SIGNIFICANCE IN HUMAN SOCIETY | | 3rd May, 1997 |
| | QURAN, HUM AND ASR-E-HAZIR | | 22nd June, 1996 |
| | HUMAN RIGHTS & ISLAMIC TEACHINGS | | 10th December, 1995 |