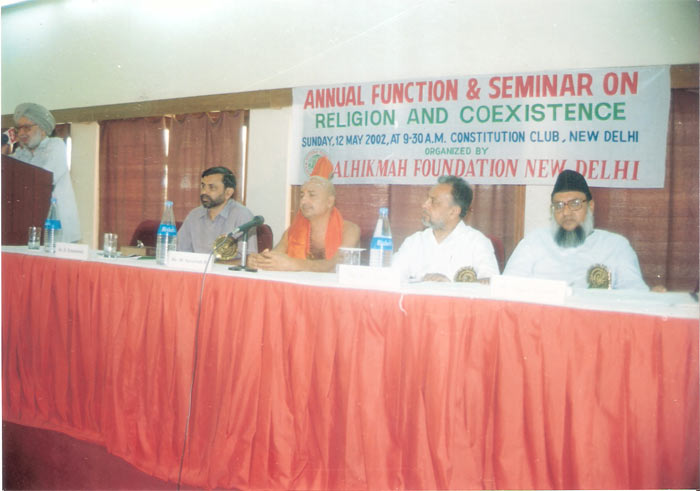 Seminar on Religion & Coexistence
Held on 12th May 2002, at
Constitution Club, Rafi Marg, New Delhi
Alhikmah Foundation organized its 12th Annual Function on 12th May 2002 at Constitution Club, New Delhi. Mr. Romesh Bhandari, Former Governor of Uttar Pradesh was the Chief Guest. Professor (Dr.) Tahir Mehmood delivered Keynote address.
On this occasion a seminar was also organized on the theme "Religion and Co-existence".
In his Kenote Address Prof. (Dr.) Tahir Mehmood expressed that the Religion and Coexistence should go together but the recent events in the form of mass carnage in Gujarat, has denied this fact. He said that even the National Minority Commission, the National Women Commission and the National Human Right Commission have become dysfunctional in the present situation. He lamented the Central Government authority for not doing any thing in this regard, even though the National Minority Commission and NHRC had submitted their reports but the Central Government ignored their reports.

In his presidential address Mr. Romesh Bhandari, Hon'ble former Governor of U.P. expressed that the Communalism does not come from the above but is created by the human being themselves. He also said that if we educate our children from the beginning about the importance of secularism, communal harmony and coexistence then they will also give the same lesson to their children and this way the principle of secularism will be passed from generation to generation. He also emphasised on the need of providing education from the school stage based on principle of secularism so that the children of the next generation can learn to respect all religions.

Speaking on the occasion Jagat Guru Shankaracharya Swami Madhav Anand Saraswati, President of Vishwa Kalyan Parishad said that some vested interest organizations and leaders have been presenting Hindu religion wrongly as a separate way of life which is damaging both the religions and their followers. He said that the religion can not be changed but the way of life can be changed according to the changing social conditions. He emphasized that honesty and helping others are the main elements of Hindu religion.

Addressing the audience on this occasion Rev. Dr. Dominic Emmaual, Spokesperson, Catholic Branch Conference of India said that we should not only show good behaviour to the people of other religions but should also love our enemies. He emphasized that the present environment of religious hatred can be eliminated only by following the basic principle of sacred Bible.

Dr. S. Farooque said that we should avoid narrow mindedness and respect other religions.
In his introductory address Dr. Ziauddin Ahmad, Honorary Chairman, Alhikmah Foundation requested the people to join hands with the Foundation to promote understanding and amity among the followers of different religions to make the country a better place to live in.
The programme was very well attended by people from all walks of life
The proceedings of the seminar were largely covered by the electronic and print media.


---
| | SEMINARS | | DATE |
| --- | --- | --- | --- |
| | ROAD MAP FOR PEACEFUL NATION BUILDING | | 13rd March 2016 |
| | MATERIALISM: BOON OR BANE | | 2nd March 2014 |
| | QUEST FOR PEACE AND PROSPERITY | | 17th February 2013 |
| | SERVING HUMANITY IS HIGHEST VIRTUE | | 18th December, 2011 |
| | SEERAT-E-PAAK (SAW) AUR PAYAM-E-INSANIYAT | | 27th March, 2011 |
| | INTERFAITH PARTNERSHIP FOR DEVELOPMENT | | 28th March, 2010 |
| | MAINTAINING PEACE: PRESENT CHALLENGES | | 29th March, 2009 |
| | HEALTHY VALUES, HEALTHY WORLD | | 30th December, 2007 |
| | ENSURING PEACE : CITIZENS' RESPONSIBILITIES | | 11th June, 2006 |
| | NATIONAL DEVELOPMENT & OUR RESPONSIBILITIES | | 5th June, 2005 |
| | YOUTH AND SOCIETY-MUTUAL RESPONSIBILITIES | | 18th July, 2004 |
| | KNOWLEDGE AS ABSOLUTE VALUE | | 18th May, 2003 |
| | RELIGION & COEXISTENCE | | 12th May, 2002 |
| | HEALTHY MINDS FOR HEALTHY SOCIETIES | | 6th May, 2001 |
| | CHARITY AND SOCIAL WELL-BEING | | 7th May, 2000 |
| | PARENT'S DUTIES TOWARDS THEIR CHILDREN | | 21st November, 1999 |
| | ROLE OF SACRIFICE AND MUTUAL COOPERATION | | 18th April, 1999 |
| | ECONOMIC HEALTH | | 18th October, 1998 |
| | PUBLIC HEALTH & UNANI MEDICINE | | 26th April, 1998 |
| | PHILOSOPHY OF SACRIFICE AND ITS SIGNIFICANCE IN HUMAN SOCIETY | | 3rd May, 1997 |
| | QURAN, HUM AND ASR-E-HAZIR | | 22nd June, 1996 |
| | HUMAN RIGHTS & ISLAMIC TEACHINGS | | 10th December, 1995 |